Car Mechanic from Belaazersk Refused to Repair Cars to Police
29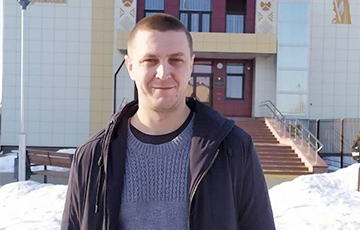 Uladzimir Zubrytski suggested that they "go to another place."
After the events of August 2020, a car mechanic from Belaazersk, Uladzimir Zubrytski, refused to repair a car to police officers. Protocols were drawn up against the man seven times for unauthorized actions, according to the First Region website.
In total, six protocols were drawn up against Zubrytski for protests in the square, and he was fined 127 basic units.
The last time, on February 22, he was fined for a collective photo on the Internet. Judge Dzmitry Kavalevich regarded it as an unauthorized mass action and fined Zubritsky 1,160 rubles (40 basic units).
Uladzimir says that before the elections he lived an ordinary life. But when the internet was turned on after the elections, he was shocked by the violence during the crackdown on protests. Therefore, after August 13, he refused to repair the cars of local policemen. "I kept asking them to drive somewhere else," says the car mechanic.
On November 26, a fire broke out at the service station where he worked. The man was interrogated: they said that there are rumors that he set fire to it. In the end, however, the accusations turned out to be only rumors.
Earlier, there were reports of doctors who refused to treat security officials. One of these doctors told reporters that she began to refuse after she spent a day at Akrestsina Street. She also redirects security officials to other doctors.