The Most Dramatic Period for Lukashenka
15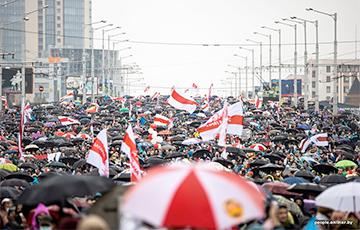 The awakened Belarusian society is becoming the main subject of politics.
"There can be no transfer of power in Belarus," Lukashenka said. And he clarified the details of this very transfer on March 2 during a meeting in which Prime Minister Raman Halouchanka, Defense Minister Viktar Khrenin, State Secretary of the Security Council Aliaksansdr Volfavich, and Head of the International Cooperation Department Aleh Voinau took part.
Political scientist Valery Karbalevich writes about this in his telegram channel.
Lukashenka said: "Everyone, even the four of you (the participants in the meeting), can participate in these elections after the new Constitution - both in parliamentary and presidential."
Perhaps this more or less precise plan is the main result of the talks in Sochi. It is no coincidence that Lukashenka insists that the topic of "transfer of power" in Belarus was not discussed during the meeting with Putin. If he persistently refuses something, then you should just pay attention to this.
What does all this mean?
First of all, Belarus is joining a whole series of electoral campaigns: local "elections," "referendum" on the Constitution, presidential "elections," parliamentary "elections." In a politicized society, this means a permanent political crisis. We remember how the presidential campaign ended last year. And here there are as many as four companies at once. Even if they try to combine them.
There are great doubts that the authorities will be able to conduct electoral campaigns in sterile conditions.
And how will the nomenklatura and the security forces behave after these processes begin?
In general, the transfer of power in itself under the conditions of a tough personalist regime provokes a political crisis. And if you add here the awakened society, claiming the status of a subject of politics, then Lukashenka will face a very dramatic period.