Italian Student: Belarusian People Have Big Heart, You Have Won Many Battles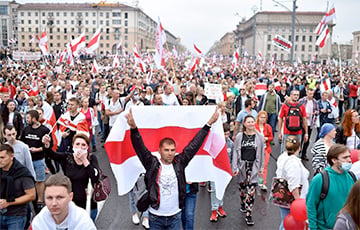 The authorities won't be able to stop the wind, they are only wasting time.
An Italian student has written to the Belarusian diaspora from Associazione Bielorussi in Italia "Supolka" with the request to pass on this letter to the Belarusian students.
The Basta! telegram channel has translated it and is happy to fulfill her request.
"Dear friends, my name is Maria. I am Italian, I am 23 years old. Like you, I study at university and try to improve, as best I can, the society I live in. I started to get interested in Belarus while reading the books by Svetlana Alexievich, and from that moment you guys became as close to me as brothers, despite the fact that we live in different countries, far away from each other.
I dedicated my first thesis to Belarus. Like you, I watched with hope the elections in August 2020. I have been to Minsk and Homel. I saw with my own eyes how you recovered from the Great Patriotic War and the Chernobyl disaster.
It may seem, and perhaps it still seems to you, that the world has forgotten you. But it has not. We see you, hear you and fight with you every day.
My heart feels your pain, the pain of your mothers, not knowing what tomorrow will bring and whether it will come or not...
Every day I think of you, watch and listen to the news. I think about the guys I met in the cafe at Freedom Square in Minsk, a small cozy corner in an unfamiliar city. I think about those women who treated me like their own daughter without knowing me at all.
The Belarusian people have a big heart, and yet you also know how to stand up for yourselves. You have emerged victorious from many battles, you will cope with this one as well!
Here, in Italy, we're cheering up for you and following you, talking about you at the top of our voices. I do not only speak for myself, I speak on behalf of many young and not-so-young people.
One famous Italian bard (like your B. Vysotsky), Fabrizio De Andre, sang in his song, addressing the opponents of the free people, "You cannot stop the wind, only wasting your time!"
You are the wind that neither batons nor fists nor bars can stop. Such people waste time; they will not break you. You are internally free, freer than those who put you in prison. It is your choice. I am sure you will win. I want you to win! Remember these words, "They can't stop the wind, they're only wasting time."
I hug you tightly, each of you, hug your mothers who are waiting for you at home. Be strong!
Your sister Maria."