Andrei Sharenda: Regime Is Living Out Its Last Months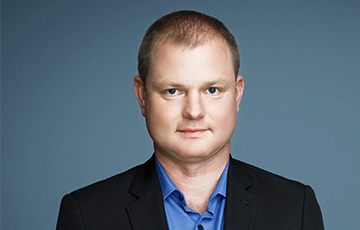 Only our victory over the totalitarian regime can free political prisoners.
Activist of the European Belarus civil campaign Palina Sharenda-Panasiuk has reported in a letter about torture in the Brest pre-trial detention center. She appealed to the Belarusian human rights activists, the UN Special Rapporteur on Belarus and the media.
Palina's husband Andrei Sharenda told Charter97.org why the regime is so afraid of the Brest activist.
- Palina has always been characterized by a strong position, especially when it comes to the Lukashenka regime. She has never denied that she completely does not recognize all the institutions of power that exist under this regime. After the events of last August, it was evident that it was the right position. Today many people hold this position.
After her detention Palina said straight away to the investigation group that they were illegitimate and there would be no negotiations. It is clear that even fake criminal cases must be filled with something, and the investigation team came to a standstill.
The authorities gave the order to make life for Palina harder in every possible way. From the moment of her detention physical and psychological pressure began. Even at such a level that no letters were received from her. Not a single letter came to me from Brest pre-trial detention center. My letters to her, I can say, were coming one after three.
There was pressure when she was sent to Minsk for forensic examination. The expertise was not as bad as the transfer. It lasted nine days just one way. It is still unknown in which detention center Palina was held. We know for sure that she was in Baranavichy detention center and Valadarka. The pressure is still on. It is clear that the doctors had no questions about her mental state. After the expertise, for some reason she was transferred not to the Brest pre-trial detention center, but to Valadarka and immediately sent to a punishment cell.
The psychological pressure and attempts to break her will and spirit continued, but as far as I know Palina is keeping stiff upper lip and is not yielding to any kind of pressure.
- How did she manage to keep her fighting spirit?
- Palina is trying to resist the regime even when she is behind bars. We know from the letters of the other girls who were in the jail with her that she urges all people to stand up for their rights even behind bars. One must keep one's honor and dignity, even while under arrest.
They say Palina inspires and encourages people who go through these repressions and trials. She is very brave and she motivates other people to fight against the regime.
I would like to add on the subject of the "illegal" letter that came yesterday, where Palina talks about inhumane and torture conditions for women. This applies not only to women, but to everyone who is behind bars today. New prison conditions were introduced precisely after the events of August. They are aimed specifically at political prisoners.
Yesterday Palina emphasized with her statement that people are held in inhuman conditions. The women are not allowed not just to lie down, but to put feet up for a while on the bunks. I know that there were pregnant women with Palina. Staying 16 hours a day in a sitting position while pregnant - these are inhumane conditions.
It is clear that Palina would be subject to sanctions because of yesterday's appeal. She will be "welcomed" in the Brest detention center. But I am sure that she will not be broken so easily and her attitude towards the servants of the dictatorial regime will remain the same.
- What does such an inadequate reaction of the regime to the strong position of the European Belarus activist mean?
- The regime is afraid of the brave people in the first place, especially those people it cannot break. We have people's leaders: Pavel Seviarynets, Yauhen Afnahel, Maksim Viniarski, Siarhei Tsikhanouski, who has been in jail for almost a year, Siarhei Piatrukhin and Aliaksandr Kabanau. Colossal pressure is put on them to break their will.
It is worth noting that this has the opposite effect. People see their resilience, their steadfastness. The time will come and everyone who is now behind bars will take their rightful positions in our country and become leaders of the nation.
- What other factors point to the regime's weakness and the inevitability of its collapse?
- The regime is already living out its last months. You can see this by the solidarity shown by the people. I was recently at the trial of the girl who was in the cell with Palina. They're afraid even to judge her normally. People are not allowed to the trials held against political prisoners, they use small halls on purpose.
The police are trumpeting at the top of their voices that they have won, but at that they are wrapping themselves in their scarves, masks, balaclavas, so that people would not recognize their identities.
The irreversible changes have already begun. The power bloc is well aware that in a little while they will have to answer for the deeds they have committed.
- How can we make human rights activists recognize Palina as a political prisoner?
- You can't force it here. The situation is such that the criteria for recognizing a person as a political prisoner must be completely changed. Human rights defenders are now guided by the agreement that was signed in 2013, but, excuse me, there were completely different conditions in 2013. The situation that has been taking place in recent months has no parallel in Europe for several decades.
We have thousands in prison, not hundreds. If there are 2,500 thousand criminal cases - thousands of people are political prisoners. Unfortunately, human rights defenders do not see them, they simply do not notice them.
Human rights defenders are focused on the criteria of non-violent resistance, but, excuse me, if the inhumane regime tortures people and beats them in the streets, everyone has the right to resist. They don't notice, or don't want to notice, those who have not just resisted, but have defended themselves. Palina has found herself in the same situation. When she was arrested she used self-defense against people in masks, practically against the crime. On this basis human rights defenders don't want to recognize not only Palina, but many other people as well.
A complete revision of these criteria for recognizing a person as a political prisoner is imminent. It even comes down to situations that are marasmus. For example, the case of Aliaksandr Kardziukou, who has been kept behind bars for 8 months. A month and a half has passed since the verdict was passed. I understand that human rights activists decided not to recognize him as a political prisoner, just because he might have resisted the police.
I would like to say for myself that human rights defenders deal with the confessions of prisoners made first of all because of pressure, saying that we are not going to a legal default, as our government does. In fact - this is smoke and mirrors. They do not burden themselves with any work in order to change these conditions for recognition.
- What do we need to do to free political prisoners?
- All of us who are still at large must understand that no negotiations, no international pressure will free political prisoners. Only we and only our victory over the totalitarian regime can free them. My appeal to people is to whistle past the graveyard, to continue active resistance to the regime, everything is just beginning and we'll soon win.
- What does Palina say to the Belarusians at large? How important for her is our solidarity and birthday greetings?
- Not so long ago a lawyer came to see her. Palina's main message is not only to people, but also to politicians - not to negotiate with the dictator, terrorist and murderer. She advocates a complete blockade of the Lukashenka regime, a complete boycott, and calls on the international community to impose sanctions and put pressure on the regime economically.
When she was in the examination she received several hundred postcards. Palina sends a big thank you to the people who wrote to her. A lot of people even brought some small care packages. She thanks everyone for their solidarity and support.