Swiss Expert: Several Factors Make Lukashenka's Departure Inevitable
36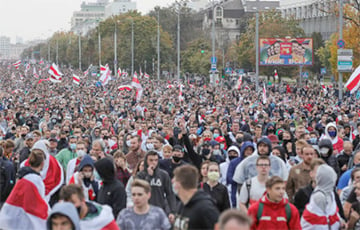 The Belarusian revolution left him no chance.
Despite massive protests, Lukashenka continues to cling to power with his "blue fingers." Benno Zogg, a Senior Research Fellow at the Center for Security Studies at the ETH Zurich University of Technology, told swissinfo.ch that political change is inevitable in Belarus and identified several factors that lead to the elimination of Lukashenka from the system of power in the country.
The Swiss expert says that the main factor is the revolution, which has been carried out by the Belarusian people for more than 200 days.
"In the event of a 'controlled revolution,' the protesters will be able to achieve the main goal, that is, the removal of Lukashenka. At the same time, such a revolution also has two possible formats of implementation: either the security forces will become the driving force of change, or - and we in Switzerland hope that the second format will prevail - the protesters will become part of the coalition government," notes Benno Zogg.
The expert considers the imminent loss of Lukashenka, his main ally, the Kremlin, to be another important factor.
From the Russian point of view, the legal chaos that Lukashenka is doing is "also far from ideal."
Gradually, Moscow will move away from supporting the criminal regime, giving signals to various groups within the Belarusian government.
"Consultations on a new political order may begin within the Belarusian elite... The Kremlin already understands how unpopular Lukashenka is and does not feel any special sympathy for him. In the long term, Russia does not want to rely only on him; ideally, it would like to have a palette of different political forces," the expert notes.
Another important factor determining the political fiasco and Lukashenka's departure is the unprecedented scale of the crisis in the Belarusian economy.
"From an economic point of view, the situation in Belarus does not look very rosy. This is a very important point. In recent years, the Belarusian economy has already experienced stagnation. Then a pandemic hit. And now, in the conditions of the political crisis, it has become even more difficult for the country to attract foreign investments. In addition, educated personnel, especially from the IT sector, prefer to leave the country," the expert says.
So soon, Belarus will most likely face economic difficulties, the volume of the national debt will increase, inflation may rise, and the population will suffer from all this. The real incomes of people are already falling significantly. Thus, an economic crisis will be added to the political crisis.