Natallia Hershe Announced the Second Hunger Strike
6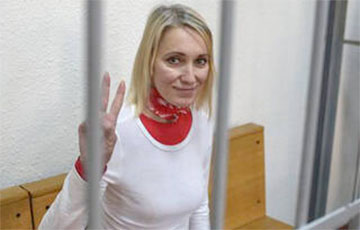 The political prisoner is protesting because the authorities are hiding the letters of the Belarusians from her.
Political prisoner Natallia Hershe, who was imprisoned for a balaklava torn off an AMAP officer, started the second hunger strike. Belsat was informed about this by her brother Henadz.
Recently Natallia Hershe was transferred to the Homel correctional colony No. 4, but her relatives, as required by law, were not informed about this for three days. They received information about the transfer only from the Viasna human rights center.
Also, the letters did not reach the Swiss citizen. Because of this, on February 22, she refused to eat. It is not known whether the political prisoner stopped her hunger strike.
This is Hershe's second hunger strike. In January, she also refused food because letters did not reach her. As a result, she was transferred to a cell with better conditions, where 38 letters were received within three days.
Natallia Hershe was born in Belarus but has lived in Switzerland for the past 12 years. At the Women's March on September 19, she tore off the balaklava from the AMAP officer Siarhei Konchyk. The court found her guilty under Part 2 of Art. 363 of the Criminal Code ("Resistance to an employee of the internal affairs bodies protecting public order with the use of violence or the threat of its use"), punished with a fine of Br 1000 and 2.5 years in prison, and also ordered to take away and destroy the white-red-white flag, which was taken away from the woman upon arrest.
You can write to Natallia Hershe at the CC (correctional colony) No. 4 246035 Homel, st. Antoshkina, 3.