Thousands Of Naftan, Hrodna-Azot Employees Not Permitted To Work Over Medical Reasons
9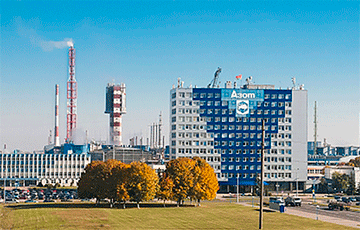 After a planned medical examination, there were grounds to suspend from work even the deputy director of the Navapolatsk enterprise.
About 2.5 thousand employees of Naftan may not be allowed to work for medical reasons. Those working at Hrodna Azot, Mazyr Oil Refinery, and other enterprises of the chemical and oil refining industries also faced such a problem, according to the website of the Federation of Trade Unions. This situation has arisen due to one of the points of the Instruction on the procedure for conducting mandatory and extraordinary medical examinations of workers, tut.by writes.
The instruction, which became a stumbling block, came into force on October 11, 2019. It lists diseases in which a person cannot work in a gas mask in explosive and fire hazardous industries. One of the contraindications is eyesight acuity. Without correction, it cannot be lower than 0.8 in one eye and 0.4 in the other. Or below 0.7 in each eye.
- The enterprises Polymir and Naftan are classified as explosive and fire hazardous. This means that any employee, being on the territory, must have a gas mask. At the same time, professional selection has always existed at Naftan to perform specific work inside tanks and wells, where there is a need to work in gas masks. However, after the entry into force of the new instruction, similar requirements were extended to all employees. And according to the results of medical examinations, they were no longer allowed to work, - chairman of the Vitsebsk regional council of the Belkhimprofsoyuz Siarhei Trotski comments on the situation.
At Naftan, the situation reached the point that after a planned medical examination there were grounds to suspend from work even the deputy director from work, because his eyesight was below the established norm. However, the union intervened and the issue was temporarily resolved. But in order to solve the problem as a whole, it is necessary to regulate everything at the legislative level.
- In September last year, we prepared an appeal to the Republican Committee of the industry trade union. A little earlier, the specialists of Naftan OJSC sent a request to the Belneftekhim concern, which, in turn, applied to the Ministry of Health. Our colleagues from Hrodna and Mazyr have also done similar work," said Siarhei Trotski.
A meeting was held, which was attended by the republican committee of the Belkhimprofsoyuz, representatives of the Ministry of Health, the Ministry of Labor and Social Protection, as well as the enterprises concerned. As a result, the Ministry of Health prepared a letter explaining how to apply the instructions, due to which the problems arose.
"The letter states that for those categories of workers who do not use a gas mask, medical examinations are carried out without taking into account the increased health requirements," said Siarhei Trotski.
Now the Ministry of Health is making changes to the document in order to finally resolve the issue with medical examinations.