The Lawyer of Darja Chultsova and Katsiaryna Andreeva Put Up for Auction the Painting "Guardian of the Law"
3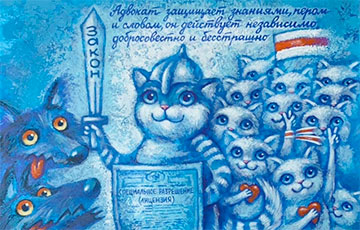 Bets can be placed until April 13th.
Lawyer Siarhei Zikratski, who defended Belsat journalists Darja Chultsova and Katsiaryna Andreeva, sells the painting "Guardian of the Law" by Belarusian artist Volha Yakubouskaya to pay off the dismissed workers. Siarhei announced this in his Facebook account.
"By law, my employees were entitled to compensation in the amount of two months' salary in connection with dismissal due to the termination of my activities. For me, this is quite a lot of money. I didn't have the opportunity to pay two months' salary to 3 laid-off employees at once. Employees agreed to write letters of resignation by agreement of the parties.
On the one hand, according to the law, I can no longer pay compensation to employees. On the other hand, in addition to legal norms, there are also moral norms, as well as good relations with former employees. I promised the staff that they would receive compensation as soon as I had the opportunity.
I already have a part of the money for the compensation for employees. But not all of them.
That is why I decided to put the painting up for auction. All the money received from the sale of the painting will be sent to my former employees, who until recently worked with me and helped protect citizens," Siarhei said.
The auction takes place on the author's Facebook page and will close on April 13 at 23:00.