Lukashenka's Son Committed a Nasty Act During a Hockey Match
28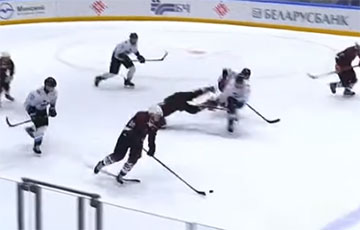 Video fact.
Dzmitry Lukashenka, the son of the usurper, hit his opponent with a stick between his legs and then knocked him over during a hockey match, tut.by reports.
The incident took place on April 15 in the match of the Minsk championship among amateur teams between the clubs Bastion and Shield. Dzmitry, 41, plays for Shield, and two more sons of Lukashenka play in Bastion - 45-year-old Viktar and 16-year-old Mikalai.
The referees handled Lukashenka's son without gloves and punished him with a five-minute fine and sending off until the end of the match. The meeting ended with a score 2:0. Aliaksandr Lukashenka watched the course of the match from the tribune.