Andrei Sharenda: More Evidence Of Regime's Agony
10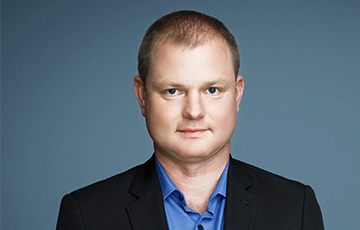 Fear of the people shows itself even through the masks on the faces of the police.
Yesterday a search was carried out in the apartment of the European Belarus activist Andrei Sharenda. Also, a criminal case was opened against the activist under Article 361.
Andrei Sharenda has shared the details with Charter97.org:
- Yesterday at 16.30, officers of the Leninski District Department of Internal Affairs of the city of Brest came to my home, where I live with my children, to conduct a search. They just broke in and thrust a piece of paper under my nose with the prosecutor's approval for a search.
The official reason for the search was the initiation of a criminal case under Article 361. As far as I understood, they were frightened by my interview about the situation with political prisoners, in particular, with my wife Palina Sharenda-Panasyuk.
The police immediately confiscated my son's study computer, which we recently gave him for his birthday. Also, two mobile phones were seized - mine and my son's. At the same time, they did not give me any papers for these things.
I was offered to go to the Leninski District Department of Internal Affairs to testify in this criminal case, I refused, referring to Article 27 of the Constitution, which allows not to testify against myself. In the end, they just drew up an interrogation protocol, where they recorded my refusal.
I believe that what happened is another evidence of the agony of the Lukashenka regime. All these criminal cases against innocent people are just the last desperate attempt to stay in power at any cost. Lukashenka no longer has a real influence on the mentality of people and the situation in the country. People understand that the regime is living out its last months.
When the police officers came to me, I saw fear even through the masks on their faces. They were much more scared than me, they were nervous, their hands were shaking. This still confirms once again: the regime is as weak as ever. All these criminal cases are the last attempt of the regime to save itself.
Still, the change of power is already inevitable, no repressions will stop the processes started last summer. The people of Belarus now know what freedom is, and will strive for it.