U.S. Secretary Of State: Resumption Of Sanctions Is The onsequence Of Belarus Authorities' Blatant Disregard For Human Rights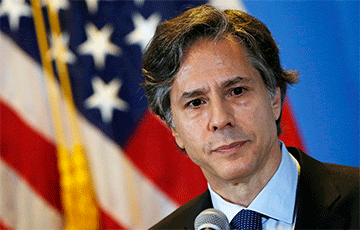 The United States intends to hold accountable those responsible for human rights violations in Belarus.
The U.S. State Department fully supports the decision of the U.S. Treasury Department to renew sanctions against nine Belarusian companies, the statement of Secretary of State Anthony Blinken, released by the press service of the Department of State on April 19, says, naviny.online reports.
Blinken stressed that the resumption of sanctions is "another consequence of blatant disregard for human rights" and failure of the Belarusian authorities to comply with their international obligations.
Secretary of State reminded that in 2015, the U.S. Treasury Department, in coordination with the State Department, temporarily suspended sanctions against Belarusian companies and regularly renewed the decision until 2020 "due to the significant progress of the Belarusian authorities in the field of human rights, in particular, the release of all political prisoners during this time".
However, as a result of the rigged August 2020 elections and the following crackdown, there are now more than 340 political prisoners in the country.
"Given the sharply deteriorating human rights situation in Belarus, the U.S. government has decided that a further extension [of the sanctions suspension] would be incompatible with the Belarus Democracy Act and with American values," - Blinken says.
According to him, the nine state-owned enterprises under sanctions "finance and support Lukashenka's regime, contributing to its brutal repression against the Belarusian people and repeated violations of the rule of law".
Blinken cited as an example of regression of the Belarusian situation the detention of blogger and politician Siarhei Tsikhanouski, blogger Ihar Losik and activist Maryja Kalesnikava. Blinken stressed that these are "only three of the hundreds of Belarusians unjustly imprisoned by the Lukashenka regime for exercising their human rights and fundamental freedoms."
"The United States calls on the Belarusian authorities to release all those unjustly arrested and detained immediately and unconditionally, - the secretary of state said. - In addition, we are committed to work with the international community to continue to hold accountable those responsible for human rights violations and abuses in Belarus. The respect for human rights, the rule of law, and Belarus' fulfillment of its OSCE commitments remain central to improving bilateral relations".
On April 19, the U.S. Treasury Department announced the renewal of sanctions against nine Belarusian state-owned enterprises. In 45 days, the cooperation with these enterprises is to be terminated.
The sanctions apply to Belarusian Oil Trading House, Belnautakhim Concern, Belnautakhim USA Inc., Belshyna, Hrodna Azot, Hrodna Khimvalakno, Lakakraska, Naftan and Polatsk-Stseklavalakno.
Major transactions or activities with the above-mentioned enterprises, companies, which they own individually or collectively, directly or indirectly, with a 50 percent stake or more, are allowed until June 3, 2021.