Authorities Gave Two Versions Of Municipal Disaster In Chyzhouka
7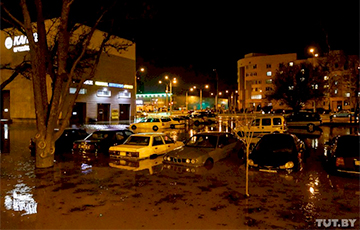 The Minsk city executive committee still does not know the exact cause.
Deputy Chairman of Minsk City Executive Committee Aliaksandr Darakhovich has announced the preliminary causes of yesterday's communal accident in Chyzhouka, the official Telegram channel of Minsk City Executive Committee reports.
- There are two preliminary versions. This is damage to the pipeline during construction and installation works. Excavation work was carried out at the construction site where the accident occurred. It is assumed that the work may have been performed without observing the regulations. The second version is the low performance characteristics of metal (cast iron), which resulted in accelerated wear and tear of the pipeline. It is too early to make conclusions, we are studying the situation now. We've confiscated video from the cameras of the shopping center, located near the accident site; we will use it to establish the causes of the incident, - Darakhovich said.
We remind that yesterday, about 21:30, a pipe burst in Ubarevich Street in Minsk near the hypermarket GREEN - the water was gushing from under the ground as a fountain, and a real lake was poured around. Later, the Minskvadakanal reported that a large water pipeline with a diameter of 1000 mm was damaged near a local construction site. The Emergencies Ministry also reported damage to a gas pipeline. As a result, several districts of Minsk were left without water - Loshytsa, Chyzhouka, Kurasoushchyna, part of Serabranka and Malinauka. After midnight the problems were eliminated, but it is not recommended to drink tap water in Loshytsa, Serabranka and Kurasoushchyna.