The Requester in the Reception
40
Iryna Khalip
23.04.2021, 12:02

79,442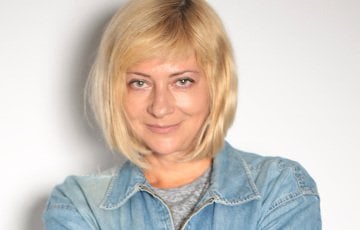 A sad end to Lukashenka's career.
Still, we are the lucky ones. I used to think that we were unlucky: the neighbouring countries in the same race with, are already in Europe, while we are still taking a sand and mud bath, trying to get out from under the wreckage of the USSR. We cannot succeed but sink deeper and deeper into the mire where Lenin and Stalin are waving to us with their caps and pipes.
Now, everything has fallen into place. The neighbouring countries went ahead not because they were lucky, but they wanted it. We might miss that aspiration. For years, we've been convincing ourselves that we were Europe, that we had smoothies and art spaces. We hid our heads not even in the sand, but in the concrete of the runway with the plane on it. The plane made a charter flight to the sea from our island of bad luck. We stifled our doubts in bars and fitness clubs. Many of us didn't do it. There was no time or energy left because we had to work 18 hours a day and there was nobody to rely on. One did not care about the flag on the Executive Committee or TV hosts lying at that moment. Everyone convinced themselves we were living a pretty good life. We could, of course, live better, but somehow we got used to it. It is unclear why we should risk a delicate balance.
Those who could not adopt and take to the streets went to the jails, tugged at hands and shouted "can't you see that we are living a terrible life; don't you want freedom?!" They looked at Lukashenka as a comic character, laughing at his wording and pronunciation. They treated the riot police and KGB as aliens who seem to exist, but somewhere on Mars, and no one has ever proved their existence. They sincerely wondered when the Martians came to pick them up and handcuff them: why us?
The amazing last summer changed everything. Now, I can definitely say we are the lucky ones. The coupling we learned to stand in over the summer and fall works regardless of the protest schedule. Each of us always has someone to turn to, and it doesn't have to be family and friends at all. Your dog is missing, your car can't start, or you have a fever - you should write to the courtyard chat room. They will print out ads for a missing dog and paste them up all over the neighbourhood, come to help with a dead battery, bring medicine and food. These simple deeds will reinforce the belief that we can do everything, we are together, and there is no other way but victory.
Now imagine all of this happening to the lonely Lukashenka. Where should he turn to? It is how he imagines the world around him. It is dangerous to send a security guard to the pharmacy: he might be bribed by conspirators and bring poison instead of aspirin. The car mechanic in the garage might cut the brake hoses. And if the pom gets lost, the opposition dog handler can train it to "take him!" It's the total loneliness and fear of his own shadow.
That is why there are exercises. The internal troops learn to neutralize the army, and the army learns to fight with its people. It is why Lukashenka is sitting in Putin's reception room, waiting for an audience: he is too afraid to stay in his country. He cannot trust anyone. There are traitors and plotters everywhere. Indeed, dangerous women with red and white umbrellas wander the streets, car drivers honk ominously, and passers-by show V signs to one another. There are enemies everywhere. The country is mined with total disobedience. Putin, bring in the troops.
That's the difference between us. We know that everything is in our hands - the future of the country, sovereignty and freedom - and we can all rely on each other. Nothing depends on him anymore. He can only count on Putin. However, he can't count on him either.
What a sad end to his career. After all, he's sitting in someone else's office, begging for tea from the secretary, and wondering in fear whether one accepts him. If earlier Lukashenka had something to offer the owner of the office as a present - look, what wonderful people I have - now the requester offers himself, his family and Massandra and Karayeu as a present. It's already rubbish. That is why he has to spend more and more time in the reception. Soon, it seems he will stay there forever.
Iryna Khalip, especially for Charter97.org