Lukashenka At Meeting With Putin: Decisions On Deepening "Integration" Will Be Formalized In Autumn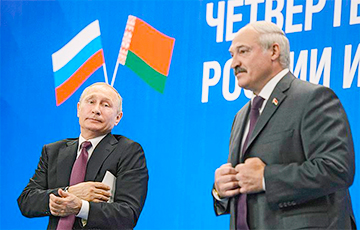 Most Russian media have ignored the Russian president's meeting with Cockroach.
Yesterday Vladimir Putin participated in the climate summit by video conference at the invitation of Biden. Cockroach had to wait until the Russian president got free. After the climate summit Putin spoke with Lukashenka.
During a meeting with the Russian president in Moscow, Lukashenka said that decisions on the deepening of "integration" of Belarus and Russia would be formalized in the fall".
The protocol part of the meeting was broadcast by the propaganda TV channel Russia 24, naviny.online reports.
"At the end of last year we outlined the program of our actions, of the presidents, for the end of last year and for this year," - Lukashenka said.
He noted that the topic of "integration" of tax systems would be discussed in detail later that day.
A Forum of Regions of the two countries will be held in Moscow Region in June, Lukashenka reminded. "And then we will decide on the meeting of the Supreme State Council in the fall, during which we will be able to formalize all our agreements by signing certain documents," - he said.
"In general, we are moving seriously on the 'union' programs, -Lukashenka said. - Remember, we started with action plans? Some very serious programs. We must have agreed on 26 or 27 programs at the government level. There are only a few left: two or three very serious economic programs, including taxation - a well-known program, on which we have actually made a decision in Minsk.
"We are moving slowly, but there are urgent issues that need to be strengthened, including security, including defense in our "union state," - he added.