Lukashenka Voiced His Claims Against Poland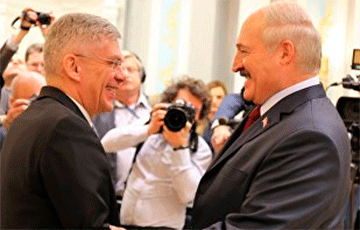 Spring freak out.
Cockroach has voiced his claims against Poland.
"Truth be told, our political contacts with this country have never been ideal. However, due to our character and mentality, we have long put up with certain outbursts and accusations against us, tried to find a compromise, showed flexibility, understanding. We were proceeding from the fact that neighbors may not be chosen. And they really are all important to us," - Lukashenka said.
"But, as it turns out, these constructive approaches are perceived in Warsaw as a weakness. Last June, the declared readiness of the Polish side to meet us halfway on a number of fronts was replaced by accusations of election fraud, support for our current runaways and their companies, giving shelter to runaway traitors and extremists, extremist Internet resources. And now it has come to sanctions," - Lukashenka noted.
"A lot of people are raising the Polish issue: "Poles, oppression...". Once again I want to repeat to the Polish leadership, - Lukashenka said, - yes, we have quite a few Poles living here. But these are our Poles. Belarus is their homeland. They have been living here, their children are living here and will live. Those who want to leave - we have never made anyone stay here and are not going to. But those who live here, the citizens of Belarus, are our Poles".
According to Lukashenka, Warsaw sees the law enforcement agencies' legal response to the illegal activities of some citizens of Belarus, calling themselves Poles, as oppression of the Polish national minority.
"But for some reason, some people here remember about their national roots only when they break the law, not when it is necessary to do something useful for the state, whose citizens they are. It doesn't matter who they are - Poles, Belarusians, Russians, Jews or Ukrainians," - Lukashenka said.
In addition, Lukashenka promised to study thoroughly at the scientific level the topic of "Polish occupation of the Belarusian lands".
"We have no unresolved territorial and property claims against each other. We have never remembered Polish occupation of a large part of the Belarusian territory in the 20s-30s of last century. But, apparently, it's time to return to this theme and study it in detail involving historians and political scientists, which, by the way, we have already been doing," - Cockroach stated.