Amnesty International Reports Most Flagrant Human Rights Violations in Belarus
8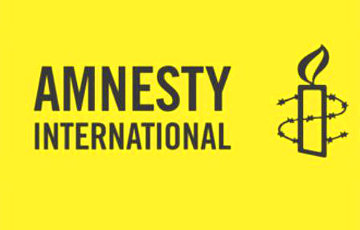 The organization has published a report on the situation in our country.
Amnesty International human rights defenders have published a report on the human rights situation in the world in 2020. The section on our country says that the past year for Belarus "was marked by the most egregious attack on freedom of expression, peaceful assembly, and association since Belarus gained independence," tut.by writes.
AI points out that the peaceful protests that began in the country after the presidential elections were responded to by the authorities with an unprecedented level of violence and repression.
Freedom of expression
"The right to freedom of expression was severely curtailed in an attempt to curb all opposition and dissent," the report says.
Among the violations, AI names:
• disconnection of the Internet;
• tight control over the media: from May to October alone, local observers recorded more than 400 cases of harassment, including detention, torture, and other ill-treatment of media workers. Deprivation of accreditation of foreign media journalists, wounding of journalist of NN Lubneuskaya with a rubber bullet, inability to publish in the printing house "KP in Belarus," deprivation of TUT.BY media status;
• harsh suppression of dissent: students, university professors, athletes, religious and cultural figures, employees of state enterprises lost their jobs or were fired. Many were subject to administrative and even criminal prosecution;
• repressions against women on a gender basis: threats of sexual violence, threats to take away children and transfer them to the care of the state.
Freedom of assembly
"The right to freedom of assembly remained severely and unduly restricted. Penalties issued to peaceful protesters under administrative law were often heavier than sanctions applied for certain criminal offences," the report says.
AI indicates:
• The detentions were carried out with unlawful use of force by people in civilian clothes who were moving in unmarked cars: "Amnesty International representatives directly observed how unreasonable, arbitrary and cruel some of these arrests were";
• security officials fired rubber bullets at the crowd at close range, used flash bangs, chemical irritants, water cannons, automatic firearms with blank cartridges, batons, and other means: "at least four people were killed, several more died under suspicious circumstances";
• During the rallies, mass media workers working there, medical volunteers who helped the victims were targeted: "sometimes people were taken on the basis of their sexual identity."
Freedom of association
"The authorities waged a campaign of brutal persecution against all forms of independent association intended to protect human rights and peaceful opposition to the regime, including monitoring initiatives, opposition campaigning teams and independent trade unions," the report said.
AI notes:
• opposition presidential candidates and their associates, including Siarhei Tsikhanouski, Viktar Babaryka, Maryja Kalesnikava, and many others were arrested on falsified charges;
• Several people were forcibly expelled from the country, including Sviatlana Tsikhanouskaya, many were forced to leave, fearing persecution and after threats;
• Criminal cases were initiated against representatives of the Coordination Council and human rights defenders.
Torture and other ill-treatment
"The authorities systematically used torture and other ill-treatment against people detained during protests, including participants, journalists, and bystanders. Local and international groups documented hundreds of cases across the country, "the report says.
AI states:
• The UN human rights experts received 450 pieces of evidence of ill-treatment of detainees, supported by photo and video evidence, as well as medical certificates, which confirm a long list of monstrous abuses;
• protesters were humiliated, tortured, and ill-treated during arrest, transportation, and in detention;
• for a long time in custody, they did not give them food, clean water and did not provide medical assistance;
• the detainees were deprived of the right to inform their relatives about their whereabouts, they were not allowed to contact lawyers;
• parcels and letters were not delivered, warm clothes and hygiene products were confiscated including for menstruating women.
"The Belarusian authorities have admitted that in connection with the protests they have received about 900 complaints about police arbitrariness. However, as of the end of the year, not a single criminal case had been opened and not a single law enforcement officer had been charged with the relevant violations," the organization points out.
The AI reports also that Belarus remains the only country in Europe and on the territory of the former USSR where the death penalty is applied: at the end of the year, there were at least four people sentenced to death. At least three death sentences were passed during the year, two of which were for brothers aged 19 and 21. No executions were reported.
In the Right to Health section, the organization criticizes the Belarusian government's "inappropriate" response to the COVID-19 pandemic.