Interior Ministry Comments On Death Of Most Public Female Riot Police Officer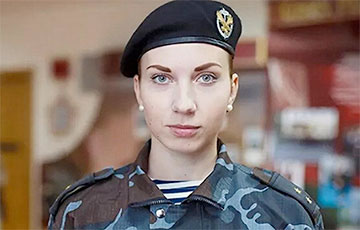 The department has been silent for nearly three months.
On January 9, 2021, it became known about the death of 29-year-old Sviatlana Skarazhonak, a member of the female platoon of the Minsk riot police, Euroradio reports.
Only April 6, the deputy chief of the department of prevention of the MIA, Volha Sakalouskaya, said that she had died of an illness.
Sviatlana Skarazhonak was 29 years old and came from Niasvizh. Her father, a border guard, had served in Afghanistan and Turkmenistan in Soviet times, and her mother was a culture worker. Sviatlana was the only child in the family.
She graduated from the Faculty of Philosophy and Social Sciences of the Belarusian State University, and afterwards she was trained at the MIA training center and in 2014 began to serve in the riot police.
The women's platoon in the Minsk riot police was created back in 2009. Female riot police officers carry out inspections in courts, at concerts and sports tournaments, and also patrol the streets.