Artists Of 'Pahonia' Association Speak Up For Ales Pushkin
2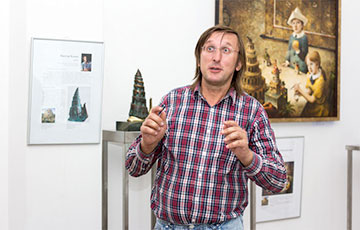 They call the persecution of the artist politically motivated.
Artists of the "Pahonia" creative association spoke up for their colleague Ales Pushkin, and made a statement published by Radio Svaboda.
Since March 30, Ales Pushkin has been held in the pre-trial detention center in Hrodna under the accusation of "inciting hatred and rehabilitation of nazism" with his creative works. The reason for the criminal case initiation is the artist's painting, dedicated to the participant of the anti-Soviet post-war underground movement Yauhen Zhykhar. In mid-March, the painting was exhibited in the Hrodna Urban Life Center.
"We, the members of the "Pahonia" creative association, are outraged about the detention of our colleague, famous artist Ales Pushkin. This is a talented artist whose input in the development of the Belarusian culture and art is essential. He created dozens of paintings dedicated to his native land, its history, as well as frescoes in numerous Orthodox and Catholic churches. Ales Pushkin participated in the restoration of the St. Stanislaw Catholic Church in Mahiliou, as well as in the creation of the fine art mural there. Yes, the artist is known for his nonconformist civic position, but since when nonconformity is the reason for starting a criminal case?"
The persecution of Ales Pushkin reveals the fact that a fundamental human right - the right to create - no longer exists in Belarus, the artist's colleagues claim.
"Thus, you need to bring people to responsibility in absentia, and ban the works of the proletarian writer Maxim Gorky, which our school and university students study. In his novel "Mother", the classic of social realism praises an "extremist", fighter with the lawful Russian power… His [Ales Pushkin's] detention severely violates the constitutional rights of a citizen, person, creator. We demand to stop the persecution of our colleague, which we perceive as the authorities' revenge on him for his nonconformity, and independent civic position," reads the statement of the "Pahonia" creative association.