Minsk Polyclinics Started Vaccinating Against COVID-19
13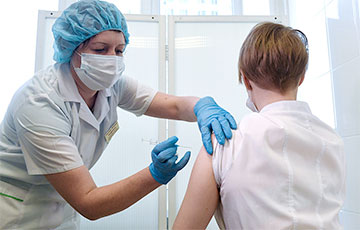 There are two vaccines to choose from - the Russian Sputnik V and the Chinese Vero cell.
Mass vaccination against COVID-19 has begun in Minsk polyclinics. The day before a number of clinics in the capital received the first batch of vaccines for all comers. In particular, on April 8, the 34th district hospital starts vaccinating common people who have registered in advance, the Minsk-news agency reports, citing the chief physician of the health center, Natallia Dziarhach.
"As far as I know, our colleagues from other central polyclinics in the capital have also received COVID-19 vaccines for mass vaccination of the citizens," - she said.
There are two vaccines to choose from - Russian "Sputnik V" and Chinese "Vero cell". At that, Dziarhach said that medical workers of her clinic have been vaccinated with the Chinese vaccine and they are satisfied with it - "no complications, and they feel fine".
With the first batch, the 34th Polyclinic received 1,400 doses of vaccine, which means that the medics will be able to vaccinate 1,400 people once. However, in three weeks they will have to be revaccinated and get another shot.
According to the chief physician, there will be enough of vaccines. The vaccination is free for the citizens.
According to plans of Minsk epidemiologists, not less than 60% of the population in the capital will have been vaccinated against coronavirus infection by the end of the year. It is possible to make an appointment for vaccination via the website of polyclinics, by phone or directly at the registration desk of medical institutions.