Listen, Tarapunka!
2
Vital Portnikau, Radio Svaboda
12.05.2021, 13:16

8,260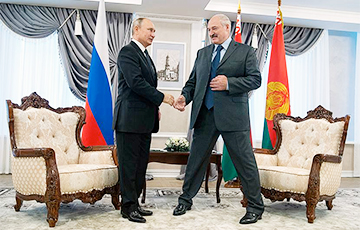 About a political duet.
The report on the next telephone conversation between the rulers of the Russian Federation and the Republic of Belarus notes that Vladimir Putin and Aliaksandr Lukashenka discussed the situation in Ukraine and "the desire of this country for close cooperation with NATO." This discussion of the Ukrainian situation itself does not seem to be a standard topic of Russian-Belarusian consultations, this has not happened before. At their April meeting, Putin and Lukashenka played a funny scene: Putin invited Ukrainian President Volodymyr Zelensky to discuss the Donbas crisis with the leaders of the "people's republics," while Lukashenka supported, outraged by the Ukrainian reluctance to return to negotiations in Minsk, and advised Zelensky to learn good manners. Moreover, Putin gave remarks in the tradition of Soviet pop duets, and Lukashenka willingly picked up - and, it seems, he even liked this new role!
I realized which duet these two remind me of. Of course, Tarapunka and Shtepsel, Ukrainian comedians Yuri Timoshenko and Efim Berezin, the favorites of the public in the distant 1970s. Even the types coincide: Shtepsel was not tall but with great ambitions, spoke good Russian; Tarapunka, lanky, a little ironic and embarrassed, spoke that the notes of the Ukrainian language could be heard, and as a result, it turned out something like Lukashenka's speech. Shtepsel, as a rule, gave remarks as "big brother," and Tarapunka reacted. Listen, Tarapunka! Listen, Aliaksandr Ryhoravich!
Putin and Lukashenka have become a duet! Lukashenka is still not ready for Putin-style integration, Putin is still not eager to lend money simply for promises to continue negotiations on endless "integration cards." But now, when the possibilities of maneuver of the Belarusian ruler in the international arena have narrowed to the width of the gap, Lukashenka is forced to pick up Putin's remarks with the dexterity of an experienced comic artist - both during personal meetings and, as we can see, during telephone conversations. Lukashenka has lost the right to his own position even on issues that have always been used to prove his supposedly independent position - for example, on relations with Ukraine. The duet with Putin became for him not only the only proof of legitimacy but also an important tool for maintaining power.
It is difficult to predict how far the Kremlin Shtepsel will go, whether he will be able to teach Tarapunka not only to agree with his every phrase and nod in time, as well as to turn Belarus into another Russian region, albeit with fictitious sovereignty. It is clear that Putin really wants this, otherwise, the Russian special services would not have played out the story of the preparation of a "coup" in Minsk and would not have frightened the Belarusian ruler with assassination attempts.
Vital Portnikau, Radio Svaboda