Belarusians Of Wroclaw Organized Rally In Support Of European Belarus Activists And Pavel Seviarynets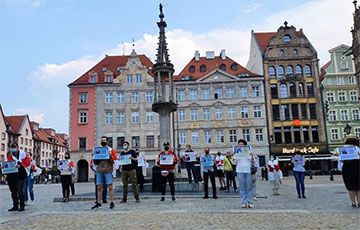 The heroes of Belarus should know that better times will come soon.
The Belarusians of Wroclaw have come out to a rally in support of the European Belarus activists, Pavel Seviarynets and all the heroes who now need our solidarity, the Basta telegram channel reports.
"The main theme of the rally is the trial, which will begin on May 14 and will concern the so-called "student case."
The trial of Pavel Seviarynets and European Belarus activists has started in Mahiliou. We express our support to the prisoners!
Siarhei Verashchahin, who is kept behind bars and needs medical care which he is not provided, was also mentioned at the rally.
The rally ended with a minute of silence, as a reminder that six months have passed since the murder of Raman Bandarenka.
We believe in better times and hope that torture in Belarus will end soon!" - the rally participants said.