'Work Becomes Unbearable': Police Lieutenant Colonel Telling Truth About Situation Among Law-Enforcers
53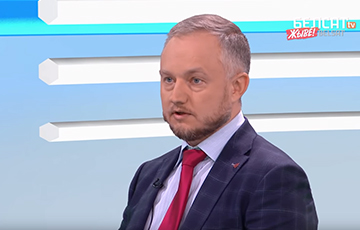 When a critical mass gathers, they can go over to the side of the people.
Police lieutenant colonel Aliaksandr Azarau, who went over to the side of the people, told Belsat about the real state of affairs in the law-enforcement agencies:
-Now the system is tired of fighting its people. People are ashamed. In the early days, I remember, we had to hide the uniform in a bag so that no one could see it. And then put it on at work. People are ashamed. All of their relatives, friends and acquaintances work in civic organizations and know what is happening, they constantly talk about it.
I know that many have broken off relationships. But they cannot see their future without a job in the police. At the moment, they believe that after being fired, no one will hire them. They also have a lot of loans, various problems, wives on maternity leave, and so on. They are now being driven into such a framework that the work becomes unbearable. For any suspicion, they regularly undergo a polygraph test.
In the same Main Directorate for Combating Organized Crime and Corruption, the employees who did not prove their loyalty, and did not beat citizens in the streets. Some of them were transferred to other divisions. Someone was retired, etc. They try to get rid of them. Now they only need those who have disgraced themselves, and who have nowhere to retreat, so they will continue to commit crimes. Their mobile phones are regularly checked, and they are forced to subscribe to pro-government channels.
Many people have several phones, at home - one phone, at work - the second, empty. People develop themselves. I know that many aspire to secretly get some kind of profession. To pass on the license in order to leave if possible, but now they have been driven there into such a framework that they have put a travel ban on everyone.
And I know that the employees who tried to fly away on vacation did not know that the ban was imposed. They were taken off the planes, and the family flew.
And the KGB travel-banned not only employees, but even their relatives. They are now limited in everything.
Aliaksandr believes that at a critical moment Lukashenka will be defended only by those security officials who have disgraced themselves with crimes:
- All the rest - the employees who doubt and who now silently go to work - may at a certain moment, when a critical mass of the people gathers, refuse and go over to the side of the people.