Lukashenka Hit by Sanctions: Belarus Started Having Problems With the Sale of Oil Products
24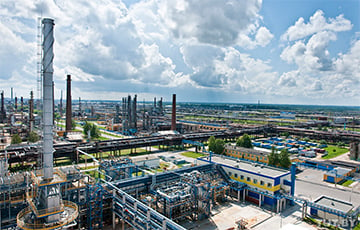 The European Union may soon impose restrictions similar to the American ones.
Belarus began to face problems with the sale of oil products abroad - a key source of income in hard foreign currency for the country's economy.
According to Argus (translation - ghall.com.ua), citing sources in the market, European banks began to refuse to finance transactions after the United States announced the imposition of sanctions against the largest Belarusian oil refinery Naftan.
Although the sanctions officially come into effect in June and formally only concern American legal entities, paying for Belarusian goods in dollars has become more complicated for clients from other countries.
Petroleum products produced from Russian oil, which is supplied to Belarus at a discount, provide 20% of the export revenues of the Belarusian economy.
Oil traders surveyed by Argus reported that shipments will be cut in May. In addition, market participants expect that the European Union may soon impose similar sanctions. This will close the sale of oil products for Belarus for the euro too.
The loss of export earnings will be a painful blow to the regime of Aliaksandr Lukashenka, whose foreign exchange reserves are rapidly dwindling. The total volume of gold and foreign exchange reserves of the Belarusian National Bank from January 2020 to April 2021 fell by 25% to $ 6.9 billion, while only $ 2.8 billion remained in foreign currency in the form of liquid assets.
The amount available to Belarus is already below the critical threshold of the IMF, which recommends keeping the equivalent of three months of imports in reserves. The external debt of Belarus exceeds reserves by 6 times and amounts to 42.1 billion dollars (as of January 1). Lukashenka is aware of the danger and is preparing for a severe currency crisis in the country. On April 21, he signed a decree giving the Central Bank the right to prohibit foreign exchange and foreign exchange transactions, set limits on the amount and timing of such transactions, and also require special permission for the purchase and sale of foreign currency.
In addition, the National Bank will be able to de facto confiscate foreign currency from the accounts of legal entities, forcibly converting it into Belarusian rubles, as well as restrict the opening and maintenance of accounts in foreign banks. The decree was signed the day after the United States announced the blacklisting of nine Belarusian enterprises.
Earlier it was reported that, in May, deliveries of Russian oil to Belarus will decrease 2.2 times when compared with April, a representative of Transneft said.
It is noteworthy that economists predicted a sharp decline in Russian oil supplies to Belarus and specifically to the Naftan refinery due to the US sanctions. Reuters, citing several Russian sources, informed that companies from the Russian Federation are afraid of falling under secondary sanctions if they do not stop working with Belarus before June 3.