U.S. Ambassador to Belarus Sends Message to Lukashenka and the Country's Special Services
26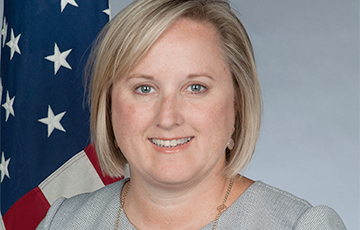 The situation does not allow the sanctions to remain frozen.
U.S. Ambassador to Belarus Julie Fischer stated it in an interview with Belsat.
- The sanctions, which affected nine state-owned enterprises, were unfrozen because Lukashenka's government holds political prisoners. These sanctions were put on hold, but they were not lifted. They were only frozen in 2015 because political prisoners were released then. But these sanctions are strongly related to the political prisoner situation. In the current circumstances, the Department of State gave appropriate recommendations to the Ministry of Finance regarding sanctions, given the fact that Belarus has more than 350 political prisoners (officially recognized by Belarusian human rights activists – note by Charter97.org). It was a clear signal from us - the situation does not allow the sanctions to remain frozen. Now we'll see whether the sanctions are effective," said Fischer.
The diplomat sent a "message" to Aliaksandr Lukashenka and the special services of Belarus. Julia Fischer urged the authorities to take those decisions that would benefit the people of Belarus.
- We know that the sovereignty of Belarus is crucial. I look forward to the day when Belarus will be a modern European nation, they can already do something today to prepare the ground for that.