"Good Must Defeat Mustachioed Evil"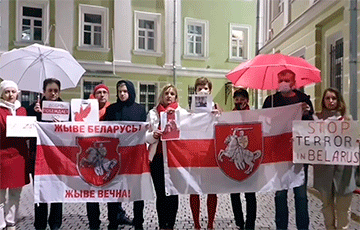 A rally of solidarity was held in front of the Belarusian embassy in Moscow.
The Moscow diaspora came out to the rally of solidarity at the Belarusian embassy, the Basta telegram-channel writes.
- Our motto is: "The good must defeat the mustachioed evil, and Belarus is to become free!"
We also send our gratitude to Marharyta Liauchuk and wish success to her creative work, which masterfully mocks the worthlessness of the rotten system.
Long live Belarus! - the participants of the rally declared.