We Have Not Stopped Thinking Otherwise!
1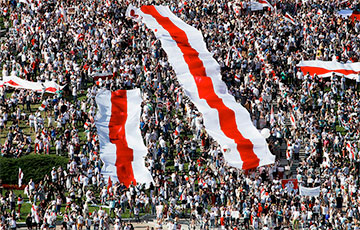 And we will not stop.
Have you noticed that anecdotes are not being told now? The genre has come to naught, real life is a hundred times funnier and more absurd. For example, philosopher Hihin, in loyal ecstasy, throws out empty tubes of Nivea cream because this foreign company did not support Lukashenka after the rigged elections. Is it funny? I want to cry... After all, Hihin is also the dean of the Faculty of Philosophy of the Belarusian State University. I can imagine the situation in the classrooms there: the process of understanding the world and the essence of things strictly according to the BT scenario, Narodnaya Volya writes.
But the banalest anecdote of our time is the detention of people. Minsk doctor-diagnostician Iryna Biankouskaya was detained for her "defiant" appearance. Oh, our clothes are now under special control. This is where humor is, when the authorities, like that frightened crow, which is afraid of even a simple bush, reacts sharply even to a hint of dissent. Iryna was wearing a red coat, from under which a piece of white dress could be seen. So a woman - there is a video - was captured almost by a bus of AMAP officers. It seemed that they were about to crawl under the skirt - maybe there are combinations of even more "unregistered symbols" on panties! Thank God, they were ashamed to do it.
Another killer fact. The other day, the valiant security forces neutralized a whole nest of the opposition. And where - in the sauna! They broke into a private washing plant in Zhodzina and detained a company of 20 people - they imagined an illegal mass event. So funny! This case should definitely be included in future history textbooks under the title "How the law enforcement agencies were stupid under Lukashenka." By the way, in the official commentary on this anecdotal case, the emphasis was placed on the fact that a white-red-white flag was found in the sauna. Really?! And where? Probably under the chimney. And if so, then a private sauna is a private space, we keep what we want.
Scratch almost every one of us today - and you will find this flag in our soul, in our heart, in our head. You don't even need to doubt: the majority of the people are for change and against violence. Well, people under pressure removed the protest symbols from the windows, took off the white-red-white ribbons from their backpacks, untied scarves with national symbols, and even changed white socks with a red stripe for black ones. But we haven't stopped thinking otherwise! And we will not stop. Even if you strip everyone naked, will it radically change the situation and the mood of citizens? So, Aliaksandr Ryhorsvich, take the whole country and send it to a pre-trial detention center - you definitely won't be mistaken with dissidents, freethinkers, Voltaireans, liberals, and other oppositionists.
And if you look a little from the other side at the current situation: what are the security officials paid for now, what are they getting their salaries for? What do they call work today? Take doctors, teachers, programmers, conductors, and entrepreneurs to the pre-trial detention center. That is, to tear real specialists away from the real creative work. The work of the security forces is to interfere with the work of the rest. There is no other way to put it because, every day, we see what huge resources of society are spent on searches, courts, interrogations of innocent people, as a rule, highly qualified specialists. The development of society stops, progress is inhibited. But the real criminals are probably celebrating - the forces of law and order are not up to them. And this is no longer an anecdote, but real black humor. Funny at first, then shameful. Then very disgusting.