U.S. Ambassador To Belarus Meets With Journalists And Relatives Of Political Prisoners
5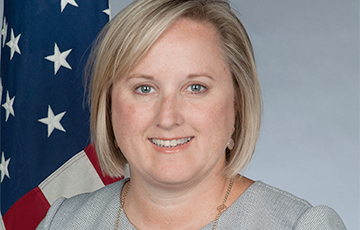 Julie Fisher asked to continue telling the truth and reporting on events in the country.
During the online meeting with journalists and relatives of political prisoners, U.S. Ambassador Julie Fisher asked to continue telling the truth and covering developments in the country, Belsat reports.
She notes that she was very happy to talk to the participants of the meeting and would like to visit Minsk with them.
"What the Lukashenka regime has done for the people of Belarus over the past year is unfair. Since last summer, the United States has strongly and repeatedly condemned the regime for using violent and repressive methods against peaceful protesters, journalists, non-governmental organizations and many others.
We continue to call for an end to repression, the release of all political prisoners, and a transition to free and fair elections," - the Ambassador stressed.
She noted that the United States is committed to working closely with partners in Europe. "As you may know, I have traveled to Europe this year, including a visit just two weeks ago to meet with Belarusians and partners in Vilnius and Warsaw. The United States supports international efforts to investigate the rigged elections, the human rights abuses and repression that have followed and continue to follow. The United States supports the International Accountability Platform for Belarus, which aims to bring together information and evidence of human rights violations to hold those responsible to account."
Fisher admitted that the work done by Belarusian journalists and the risks and dangers they understand are awe-inspiring:
"Thanks to your stories, your photographs and your videos, people in Belarus have understood what is happening in their country. Thanks to your work, the rest of the world was able to learn the truth about Belarus."
"We firmly believe that journalism is not a crime, even if the regime wants to see it that way. They are afraid of the truth. They are afraid of you and what you do. They want a conspiracy in the dark. You understand that freedom thrives in the light. Yesterday was World Press Freedom Day. But every day should be a day of freedom of the press. There is no knowledge, no responsibility, no basis for building the future without a free press," - Fisher said.