Dzmitry Paulichenka Hospitalized In Intensive Care Unit
80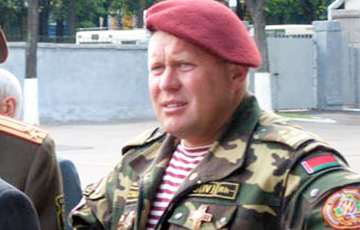 The former SOBR commander is one of the main persons involved in the cases of the high-profile disappearances of opposition politicians.
Former commander of SOBR and the military unit 3214 Dzmitry Paulichenka has spent more than a week in the intensive care unit of a hospital in Minsk, where he was taken with coronavirus, Narodnaya Volia reports.
We remind that Dzmitry Paulichenka is one of the main persons involved in the cases of notorious disappearances of Yury Zakharanka, Viktar Hanchar and Anatol Krasouski. Dzmitry Paulichenka is the head of the Belarusian Association of Veterans of Special Forces of the Ministry of Internal Affairs "Honor" and in recent years led a not very public life. However, during the mass protests of last year he was seen not only at the rally in support of Lukashenka, but also among his inner circle - a photo of Paulichenka with Lukashenka's press secretary and suspect in the murder of Raman Bandarenka Natallia Eismant was scattered all over many websites. It was reported that Paulichenka was one of the main consultants on dispersing the protests and that the dismissal of Interior Minister Yury Karayev was not done without his influence.
At one time Dzmitry Paulichenka underwent a heart operation, and it appears that the coronavirus did not go off without complications for him. As can be seen, this disease gives no quarter neither to good, nor to evil ones.