How Belarusian Woman Received Certificate Of Vaccination Against COVID-19, And How Much She Paid For It
16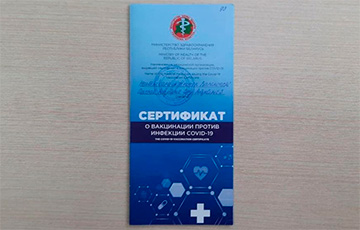 Aliaksandra Razina told what documents they demanded from her.
In early May, intex-press.by correspondent Aliaksandra Razina received the second coronavirus vaccination in Baranavichy, but she managed to get the coveted certificate only a month later. What documents were required, what does the vaccination document look like and how much does it cost? Answers to these questions are in the material below.
Two vaccinations and ... nothing
I got my first coronavirus vaccine on April 14. And two weeks later I found out that those who had been vaccinated against covid could receive a certificate confirming the vaccination. In addition, it will be one of the conditions for unhindered travel abroad (at least, such conversations are going on).
I got the second vaccination on May 4. A few days after that, I tried to get my certificate, but the coveted document was never given to me. All that I then managed to find out in the instances to which I applied is that the issue of certificates is being resolved at the level of the republic. Simply put, they simply did not exist.
The long-awaited certificate
In the second half of May, it became known that they had finally started issuing the certificates. I went to get my document on June 10 (to be sure) to the Baranavichy city polyclinic #3 (where I had been vaccinated).
From the documents, only a passport and an extract from medical documents were needed (it was issued after the second vaccination).
At the reception I was immediately directed to the cashier to pay for the certificate. Its cost is five rubles. By the way, the payment could only be made in cash.
With the check, I went to the first aid room. The specialist entered into the certificate my passport data, the data about the vaccine, and indicated the time of the vaccination.
My certificate was numbered 93, from which we can conclude that more than 90 people have already taken their certificates from this clinic on June 10. To be honest, I thought there were much fewer of them.