Where Did Kubrakou Disappear?
46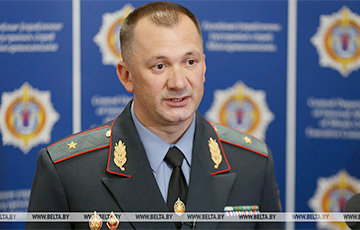 The Ministry of Internal Affairs now has an "interim minister."
On June 14, in the news about conscripts and evasion of military duties, the Belta state agency presented the first deputy minister of the Ministry of Internal Affairs Yury Nazaranka as "the interim minister of internal affairs", writes telegraf.by.
The press service of the so-called council of the republic also informs about the "interim" minister.
At the same time, on the website of the Ministry of Internal Affairs of Belarus, in the section on the leadership of the department, Ivan Kubrakou is listed as the head.
The last time Interior Minister Ivan Kubrakou appeared as Interior Minister on May 26. He spoke after Aliaksandr Lukashenka to the deputies on the situation in the country against the background of the emergency landing of the Ryanair plane in Minsk.
The minister then reported on a decrease in protest activity. "At the same time, monitoring the situation shows that, against this background, the attention of foreign coordinators is shifting to maintaining opposition sentiments, consolidating radical elements in the Internet environment, as well as working among social groups, in messengers and social networks," said Ivan Kubrakou.
The ubiquitous telegram channels did not in any way touch upon the topic of the disappearance of the minister in their leaks. What are the versions? For example, vacation or illness. As a rule, the resignation of ministers becomes known immediately. As well as the appointment of a new head of the ministry.