From the Mother of Frantsishak Severinets to Pope Francis
1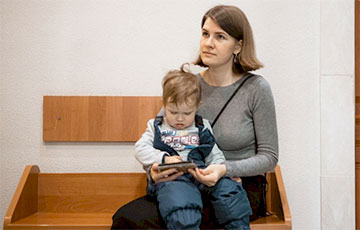 A touching letter from the wife of the political prisoner.
Volha Seviarynets, the wife of the politician Pavel Seviarynets, who was thrown into prison by the Lukashenka regime for seven years, wrote a touching letter to Pope Francis:
- Your Holiness, Dear Pope Francis,
I would not have dared to write to you if it were not for the tragic events taking place in my dear Belarus and my family. I turn to you to tell the story of the little boy Frantsishak and his father.
We live in the capital of Belarus, Minsk. When my husband and I found out that we were expecting a child, it was the 500th anniversary of the publication of the Francysk Skaryna Bible - the first printed Bible in Belarus. And we decided to name our boy in honor of Skaryna and your honor – Frantsishak. Francis is now three years old and has been growing up without a father for a year.
His father, Pavel Seviarynets, has been in a Belarusian prison for more than a year. Pavel is a sincere believer, a Christian, a writer, he is one of those who restored the legendary Christian party of 1920-30 Belarusian Christian democracy in Belarus. He builds all his activities, books, and family on Christian values. Belarus, which believes in God, is his main dream, and he goes to this dream without feeling sorry for himself.
During the entire time of the dictatorship in Belarus, Pavel spent about 7.5 years in prisons, isolation cells, and "chemical" facilities on illegal sentences. Last year, he was unreasonably held for 70 days in a punishment cell - a small room without windows, without personal belongings, even his Bible was taken from him, he did not have a blanket and a mattress to sleep on, he put a bottle of water under his head; for the whole summer, he was not taken for walks and showers. The only thing he could do in the punishment cell was to walk and pray.
At the unrighteous trial, Pavel chose the position of silence, referring to the fact that Christ was silent when he was unjustly judged. The closed court illegally awarded Pavel 7 years of a reinforced regime, although, all his actions were absolutely peaceful and did not go beyond the framework of the Belarusian Constitution.
And today, there are hundreds of such people and stories in Belarus. Dads, mothers with many children, sick people, children, whose only crime is the desire to live in a free Belarus, remain in prison. Many of these people are desperate, they are hungry for truth and justice. Each of them bears his own cross for Belarus.
Pavel says that today in Belarus everything depends on the Church - whether it will raise its voice for the truth or continue to live in lies and fear, turning a blind eye to the suffering of people.
Frantsishak, our long-awaited son, is growing up without a father, and, this year, he has learned to speak, to pray "Our Father", to sing; his favorite song is "I am not afraid, my God is with me." Pavel sends Frantsishak drawings from prison, writes letters, asks him to obey his mother and pray to God.
Recently, we were given the first date in a year with my husband, we went together with Frantsishak, we talked with Pavel through the glass, laughed, prayed together. In the end, Frantsishak begged the father to go outside with him to play, but the father can't do it, even though it's not his fault.
Pavel is a wonderful father, a beloved husband. I tell my son that his dad is a hero. Frantsishak and I love him very much and are waiting for him, but I am very afraid that he will not return to us from the Belarusian prison.
We ask you to remember and pray for our family, for Pavel, for little Frantsishak, as well as for all the prisoners and exhausted Belarusians.
We ask you to pray for Belarus. Many Belarusians dream of living in a country that will be based on Christian values and truth, and they have already done a lot to make it happen one day.
Remember us in prayer.
Long live Belarus! Lives with God!