Sviatlana Aleksievich Was Awarded One of the Highest Awards in Germany
5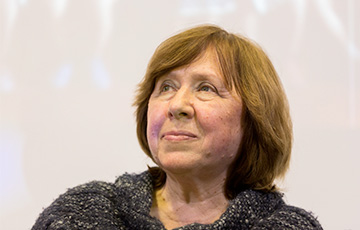 The award was presented to the Nobel laureate by the President of Germany, Frank-Walter Steinmeier.
Belarusian writer Sviatlana Aleksievich was awarded the Order of Merit for the Federal Republic of Germany. She received the Grand Cross of the 1st degree from the hands of the President of the Federal Republic of Germany, Frank-Walter Steinmeier. The ceremony took place on Tuesday, June 15, in Berlin, at the Bellevue Palace - the official residence of the head of state, dw.com reports.
The order was founded in the Federal Republic of Germany in the early 1950s. One of the highest awards in Germany is presented by the Federal President.
In 2014, Sviatlana Aleksievich received the Officer's Cross of the Order of Arts and Literature - a departmental award of France, and, a year later, she became the Nobel Prize laureate in literature.
Aleksievich: Belarusians have shaken off their sleep
Steinmeier in his speech touched upon the many months of protests in Belarus. "This peaceful, courageous, and still brutally suppressed desire for the future has a woman's face," the head of state emphasized.
In her response, Aleksievich noted that "communism is not yet dead and is ready to give the last battle," judging by the events in Ukraine, Belarus, and Russia. This system "lives not only in the heads of Putin or Lukashenka," and this, "despite our idealism, must be considered," she added.
The writer called the current era "timelessness." "Only in 2020, we have shaken off our sleep," Aleksievich noted. She highlighted the need to work with those Belarusians who still support the government. "We must explain the world, our history to them. We must explain that we have become a nation," the writer pointed out.
Aleksievich's future book is about protests against Lukashenka's regime
Among the most famous works of the writer are the documentary books "The War Does Not Have a Woman's Face," "Zinc Boys," and "Chernobyl Prayer."
The new book will be dedicated to the mass protests against the regime of the ruling in Belarus Aliaksandr Lukashenka, which began in August 2020. Aleksievich has been living in Germany since September 2020 at the invitation of the German Academic Exchange Service DAAD.