Vitsiaz Handball Head Coach Kanstantsin Yakauleu Detained
1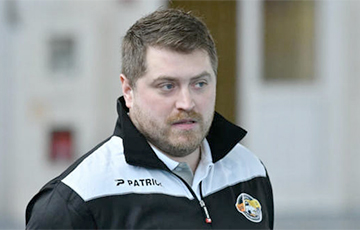 He came to meet Trybuna journalist Dzmitry Ruta.
Kanstantsin Yakauleu, head coach of handball "Vitsiaz" and SOS_BY activist, has been detained. He came to Baranavichy today to meet Dzmitry Ruta, a Tribuna.com columnist, who was released from jail, Trybuna writes.
Volha Khizhynkova, volleyball player Artur Udrys, wrestler Stsiapan Papou, ex-football player Vasil Khamutouski, track and field athlete Andrei Krauchanka, fighter Ivan Hanin and others also came to meet the journalist.
As Andrei Krauchanka told Svaboda, the car in which the athletes were traveling after meeting Dzmitry Ruta was stopped by the traffic police on the highway M1. After that, riot policemen immediately appeared, took everyone out of the car and ordered to put phones on the hood. Kanstantsin Yakauleu was detained straight away.
According to Sbornaya ZOZH, Volha Khizhynkova, Artur Udrys, Vasil Khamutouski, Andrei Krauchanka, Stsiapan Papou, and Ivan Hanin were not detained.
We remind that Yakauleu was planning to hold an open training session in Novaya Baravaya today.