Political Prisoner Natallia Hershe Held In Punishment Cell For Month And Half
12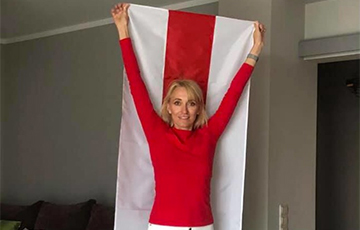 Perhaps she refused to sew a uniform for the security officers.
Political prisoner Natallia Hershe is serving her sentence in Homel colony #4. For a month and a half she has been held in a punishment cell, writes nn.by.
Natallia Hershe was placed in the punishment cell from May 6 to 23, as well as from May 24 to June 3. After that, the woman spent four days in the medical unit, and from June 8 she was again sent to the punishment cell. She is temporarily deprived of the right to send letters and make calls.
The only thing that brother Henadz received during this time was a telegram. Natallia wrote that she was given a short sick leave, complained of pain in her fingers and toes, and a fever of 37.3.
Henadz does not know the exact reason why his sister is being held in a punishment cell. The official response says that "the convicted woman commits violations of the established order of serving the sentence, for which she is brought to disciplinary responsibility."
The brother believes that Natallia could have been transferred from the sewing of civilian clothes to the production of uniforms for the security officers, but she said that she would refuse to do this.
"This is important for her. She expected the pressure to increase, and in our last conversation she stressed it," he says.
Earlier, Hershe said that she was often loaded with errands.
"There were 30 minutes left before the lockdown, I had to clean the bathroom - 8 washbasins, 7 toilets plus a bidet, wash the floor and walls, take out the trash. Five minutes later, they came with a check and said that in another five minutes I had to finish. And poorly performed duty entails punishment, " Henadz quoted her letter. "Natasha wrote that one of the officers told them so: if there is not a single report on the convicted person, this indicates the poor performance of the security officer. In addition to general checks, she has two additional checks - at 10 am and 20 pm.
She writes: "It is simply impossible to live in a room with many people, and never break the rules of the internal order. Internal rules are designed for having an opportunity to punish an inmate if necessary."