Economist: Lukashenka Will Not Be Able to Manage the National Debt, Default Is Possible
18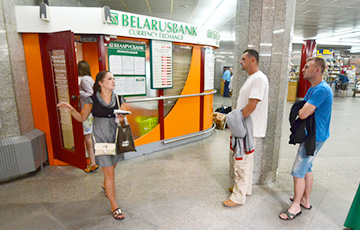 It is better to collect your money from banks in advance.
According to the Ministry of Finance, the state debt of Belarus as of May 1 amounted to 58.1 billion BYN. For comparison: in May 2020, the state debt amounted to BYN 50.1 billion. The Charter97.org website asked the project manager of the Kosht Urada project, economist Uladzimir Kavalkin, why the state debt in Belarus continues to grow.
- The public debt continues to grow because, firstly, it is denominated in foreign currency, so it grows in rubles when the exchange rate changes. Secondly, because we have a budget deficit, and it still needs to be covered. Accordingly, this deficit can be covered from the budget or public debt as much as possible.
- Belarusian Eurobonds collapsed by 5% amid reports that the package of sectoral EU sanctions will include a complete ban on trading in Belarusian securities. What can this mean for the state debt of Belarus?
- This may mean that it will be much more difficult for Lukashenka to refinance. On the one hand, he will have to significantly reduce the budget deficit, and, on the other, the question will arise about the possibility of refinancing the state debt. If there are no such opportunities, then a default may occur.
- Experts believe that Belarusian securities "will become de facto untouchable," like Venezuela's government bonds. What are the consequences of the EU ban on trading in sovereign securities?
- This makes it impossible to manage the public debt with bonds. This is the main thing, where this will lead, this is the main thing. Here you need to understand that, unlike Venezuela, Belarus has Russia close at hand, and it can buy these bonds.
- In this case, is there a possible currency deficit in Belarus and an accelerated devaluation of the ruble?
- At the moment, it is difficult to say what is possible now. For the devaluation of the ruble and the currency deficit, it is important, first of all, to monitor the trade balance. So far, it is still positive, including due to the external world conjuncture and global inflation. At the moment, the exchange rate is influenced to a greater extent by the state of foreign trade than the state of the state debt. If our state debt will affect the value of the Belarusian ruble and its devaluation, this may mean that a state close to default has come.
- Some experts point out that a moment may come to Belarus when they will stop issuing currency. How can the population protect their savings?
- People need to withdraw them from banks in advance and convert them into the currency that people trust. If you wish, you can invest outside of Belarus. Buy a house somewhere in Lithuania, Poland, or somewhere farther away. It all depends on the person and his ability to invest.