Emergency Flares Lit Above Naftan And Palimir
13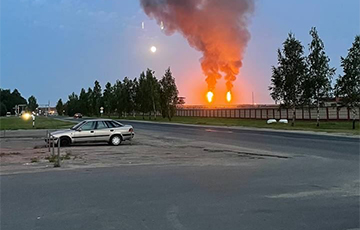 Will the refinery be stopped?
Last night Navapolatsk residents noticed "torches" in the industrial area of JSC "Naftan" and the plant "Palimir". At first, columns of fire and smoke were taken for a fire in the petrochemical complex.
Later, it turned out that there was no fire at Naftan and Palimir: emergency flares were lit over the plants. Earlier, similar "torches" have been noticed at plants during the start-up of equipment or an unscheduled shutdown, reports tut.by.
"Flames and a column of black smoke can be seen near the plant Palimir. The 102nd and 105th shops have stopped.
An emergency release on the flare of the polyethylene production shop has been triggered," wrote the Attention Naftan telegram channel.
"The Unicracking and Fractionation units at Naftan plant have stopped accidentally," the telegram channel adds.
Earlier it was reported that Russia had left Naftan without oil supplies for the third quarter of this year.