Hary Pahaniayla: West Realized Lukashenka Must Be Stopped
36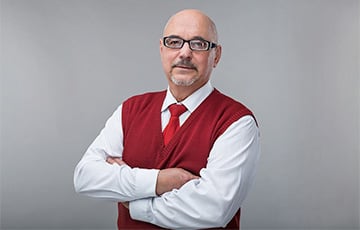 Tough economic sanctions will lead to changes in Belarus.
Hary Pahaniayla, chairman of the legal commission of the Republic Human Rights Public Association "Belarusian Helsinki Committee, said this in an interview with the website Charter97.org.
- Lukashenka used military aircraft to force a Ryanair civilian plane to land at Minsk airport. The international community called these actions "an act of state terrorism" and "air piracy". What should be the adequate punishment for the regime?
- The penalties have already been chosen by the European governments. Sanctions have been announced and applied. The airspace is closed for the normal operation of flights to the countries of the European Union, as well as some other countries. This is not only a serious warning, but also economic pressure in order to prevent such cases, at the same time to show the determination of a number of European countries.
A lot of air corridors pass through Belarus and, naturally, in accordance with international law, it had to ensure the safety of the flight with its dispatch services, but in violation of all agreements, it decided to land the plane in this way, organizing a terrorist threat, allegedly a bomb was planted in the plane, which was supposed to explode over Vilnius. The whole thing is obviously clumsy, thinly veiled.
Investigation is ahead, but first estimates have already been made with the help of intelligence agencies that track flights, and are responsible for the safety of passengers on board aircraft. The fact has been established and has been actually recognized by the government of Belarus, therefore, sanctions followed for gross violations of international order, rules for ensuring the safety of flights of civilian aircraft, as well as the citizens themselves. At least I have no objection to the assessments, and those actions that were taken to ensure the normal behavior of the offender.
- The EU countries are preparing the fourth package of sanctions, which provides for a ban on the export of Belarusian oil products, potash fertilizers, and financial measures. According to experts, this amounts to up to 1/3 of the budget foreign exchange earnings. Why is it important to cut the regime off funding sources?
- The question, probably, should have been asked differently, and that is not the way I would like to answer it. These are gross violations of human rights. First of all, this refers to unlawful systematic detentions, imprisonment, torture, executions without trial. We know about the killings of peaceful protesters. A number of other serious violations for political reasons have taken place, and are still happening in Belarus. Thousands of our citizens have been affected by these criminal manifestations. Despite all kinds of admonitions by the international community, which calls on to fight for the established order in the field of human rights observance.
We are not only members of the UN, this huge planetary body, but also signed treaties in the field of human rights, took upon ourselves the responsibility to ensure and guarantee these rights, and the government is grossly violating them. Moreover, some of these violations are assessed as crimes against humanity. Of course, there were corresponding resolutions condemning such behavior of the government, as well as warnings about the need to correct the situation. For example, the initial sanctions, which affected specific officials involved in such incidents, but the government did not respond, continues the same practice.
States and governments have the responsibility to maintain human rights order. This is the concern of the entire international community. It cannot allow a government somewhere in a country to ignore the established norms that countries have reached, signed and ratified in international treaties. They undertook guarantees for the observance and provision of citizens with these rights, enshrining them in national legislative acts. But suddenly someone manifests absolutely unacceptable facts of genocide, murders of their own people, illegal imprisonment, suppression of peaceful actions with the use of disproportionate force, with the help of weapons.
Thousands of people were imprisoned in Belarus for displaying their civil position, for peaceful protests, for demanding fair and free elections. Therefore, the arguments that this is our internal affair, the struggle against some kind of almost counter-revolution, a conspiracy of international imperialism, hybrid wars, cannot be justified. This is not an internal affair of the Republic of Belarus, but, in essence, all democratic states that are united in the UN organization are called upon to observe the order that has been established.
It should be clear to everyone here that the same world community, in addition to exhortations, educational measures, persuasions, has a large set of instruments, both diplomatic, moral, economic and even military. We remember what happened in a number of countries when governments committed crimes against humanity. We remember the events in Yugoslavia, Chad, other African, Arab and Latin American countries where human rights were suppressed in the same terrible way. Of course, the reaction of the world community was harshly demonstrated in these countries, and we are currently seeing it in the Republic of Belarus.
Please note that the sanctions began with condemnations and, as I say, moral sanctions on freedom of movement in the EU countries, that is, not the entry of individual officials guilty of human rights violations in the post-election period, starting from August 9 last year. At first there were a little more than 40, then this list expanded, nevertheless, crimes continued and more and more new so-called sectoral packages were introduced. Today we are talking about the fourth package of sanctions, and the fifth package is being prepared. In the end, Western countries came to the point of applying the so-called sectoral sanctions.
The issue of economic sanctions is the most difficult one. I hope this will sober up our rulers.
- Are several lawsuits on crimes against humanity being considered against Lukashenka? What results can the official recognition of the regime as criminal and terrorist bring? How much will the resonance with the plane help in this matter?
- The very incident with the plane only showed the depth of disregard for the international rules of conduct, which the government of Belarus and personally Lukashenka are ready to demonstrate. This finally led the governments of Western countries, the Council of Europe, the European Union, and the OSCE and UN countries to the point that it is time to firmly stop this practice, otherwise there will be trouble in the center of Europe. Of course, nobody wants to bring the matter to the use of military force when there is a brother with an "atomic baton" behind him, but economic sanctions are quite sobering tools that can be used in this situation. They will be applied, expanded and deepened. All this will help ensure that our internal conflict is nevertheless resolved by peaceful means, negotiations, the appointment of new democratic and open elections that will lead to a change of regime. This is achieved by both our national opposition and the international community.
In this regard, I can only support what is planned and carried out by international bodies, organizations and governments in relation to Belarus in order to stop arbitrariness, violence, torture, and illegal detention in prisons. Never in the post-war history of Belarus has there been such a surge of violence. In fact, we have not observed this in any post-Soviet country. Yes, there is tyrannical despotism in a number of Central Asian countries with serious violations of human rights, there is Azerbaijan, which in the electoral periods also demonstrated cruelty towards the opposition, when up to 300 people and more were political prisoners. We know these stories, but we see what is happening in Belarus today for the first time in the post-war period.
- There are already more than 3 thousand political prisoners in Belarus. A situation has been created in the country where many of them may not live up to release: it is enough to recall the examples of Vitold Ashurak, 17-year-old Dzmitry Strakhouski, Stsiapan Latypau ... What needs to be done to save people's lives?
- In this case, not because they cannot wait to be released, but because in the places where they are serving their unfair court sentences, extremely unbearable conditions are created that humiliate human dignity, the traditions of the Stalinist gulag are being revived. Some tags are already being sewn, they are marking political prisoners with some kind of paint, so that the prison population treats them in a special way, and the administration punishes them with special predilection, with an additional psychological load, in order to break down a person, suppress their will to resist. This leads to the fact that the psyche of people does not stand, someone commits suicide, and someone dies as a result of the beatings, because people come there with different health, but this is of no interest to anyone. Whether the person has chronic diseases, how they basically feel there, whether they need medical help. After all, many will simply not be able to stay there for a long time without timely medical assistance, they will die from chronic diseases, injuries, and cruel treatment.
What can be done under these conditions? It is necessary to make every case widely publicized, it is necessary to fight this kind of crime in prisons, it is necessary for the international community to react to every fact of such intentional killings. Deprivation of liberty does not mean deprivation of human dignity. Such behavior of the administration is a crime in itself, but I think that this period will not be long. In the 21st century, this kind of bacchanalia must be stopped. The perpetrators must be punished, and the innocent must be released from prisons. This will surely happen under the pressure of our people, who do not want to live under occupation, and will fight for their freedom. I hope this will be facilitated by the human solidarity of Belarusians abroad, all people of goodwill, including with the help of Western governments as a result of the application of tough economic sanctions, which will lead to a change in the political situation in the country.