Palina Sharenda-Panasiuk: All Our People Demand Resignation of the Impostor!
1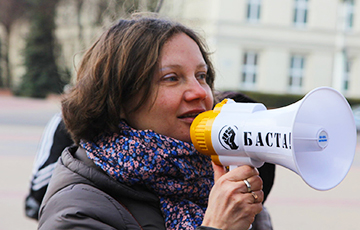 Manifesto of the activist of European Belarus.
Today, Lukashenka's court illegally sentenced activist of European Belarus Palina Sharenda-Panasiuk to two years in jail.
As Charter97.org learned, when the so-called court announced the verdict, she took out a banner "Impostor, go away" and read out a manifesto.
- This is not a verdict. It is a politically motivated massacre. I told you yesterday that I did not recognize this verdict.
"Obedient herd." Do you remember those words of Karayeu? No one has ever insulted me like that.
We are a brave and courageous people! People's Unity Day! This is what our people are demanding! All our people are demanding that the impostor go away!
The activist from Brest is known for her clear and uncompromising position towards Lukashenka's regime. During the "parliamentary elections" in 2019, the activist said on television that Lukashenka's a dictator and called for his resignation.
Palina Sharenda-Panasiuk is a Polish language tutor. Together with her husband, European Belarus activist Andrei Sharenda, she raises two minor children.
One can read the historical speech of the activist of European Belarus following the link.