Stroke Again? Media Noticed Strange Symptoms On Lukashenka's Face
116
20.07.2021, 17:09

201,160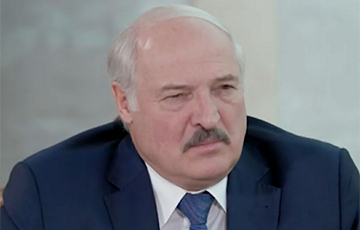 The dictator's right eye is not opening.
After Lukashenka was hastily evacuated from the opening of the "Slavonic Bazaar" in Vitsebsk, more and more information about the dictator's poor health is leaking into independent telegram channels and the media.
Today, the Real Belarus Telegram channel drew attention to one of the latest photos of the usurper, taken during an interview with an Arabic publication: the picture shows signs characteristic of a stroke.
Telegram channel ironically admits that "there might not have been a stroke, and his face has fallen away from tiredness."
"At yesterday's so-called interview, many people have already noticed that the blue-fingered old geezer's right eye hardly opens at all. And for the entire interview he was sitting there distorted. And the clock is ticking," writes Real Belarus.
We remind that a number of independent media and many telegram channels reported that Lukashenka felt ill at "Slavonic Bazaar" in Vitsebsk and flew urgently to Minsk.
Later, some telegram channels and media clarified the circumstances of Lukashenka's urgent evacuation from Vitsebsk: the dictator really felt bad, most likely because of the heat his blood pressure went up. He was evacuated from Vitsebsk, according to one version, by helicopter, according to another one - by private plane.
There was also information about the dictator's poor condition during the night after the opening of the festival in Vitsebsk: "There is information from a reliable source that the mustached creature was resuscitated by medics tonight. They came to the residence for that. They drove in more than once. They report about the champagne and ice as well," reports the Drivers 97 telegram channel.