At the "Slavianski Bazaar" in Vitsebsk, A Car Broke through the Wall of a House
10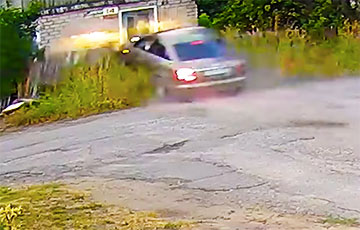 The driver of the Audi A6 was fleeing from the traffic police.
A Belarusian in an Audi A6, fleeing from the police, rammed a residential building in Vitsebsk during the Slavyansky Bazaar, vitebsk.cc reports.
In the early morning of July 19, a traffic police squad on Zelenahurskaya Street noticed a suspicious car. The driver who noticed the police turned off the main road and started to drive away.
A patrol car rushed behind him, signaling to stop. The Audi A6 accelerated and began to run away, the police chased after.
As a result, trying to escape the chase at high speed, the car flew into the wall of a private residential building. Having abandoned the car, the driver and his two female passengers tried to escape but were detained. A hole was left in the wall of the brick building.
It turned out that a 22-year-old resident of Vitsebsk was driving. Both he and the girls traveling with him refused to undergo a medical examination. Several protocols were drawn up against the driver for violation of traffic rules, the press service of the Internal Affairs Directorate of the Vitsebsk Regional Executive Committee reports.