How Lukashenka Disappeared
47
24.07.2021, 10:26

135,768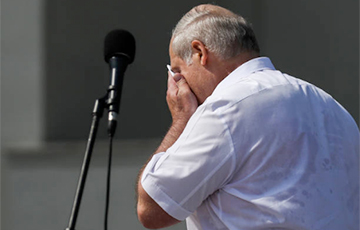 The propagandists diligently masked his absence with the help of archival materials.
The sudden disappearance of a public politician is always an event. At the end of last week, Aliaksandr Lukashenka disappeared from the screens, Current Time reports.
While Telegram channels and independent media were trying to find out what happened, the pro-government media diligently masked his absence with the help of archival materials.
For details, see the video of Current Time.
It should be reminded that several independent media outlets and many telegram channels reported that Lukashenka became ill at the Slavianski Bazaar in Vitsebsk and urgently flew to Minsk.
Later, some Telegram channels and media outlets clarified the circumstances of Lukashenka's urgent evacuation from Vitsebsk: the dictator really felt bad, most likely the blood pressure rose because of the heat. He was evacuated from Vitsebsk, according to one version, by helicopter, according to the other - by private plane.
There was also information about the poor health of the dictator throughout the night after the opening of the festival in Vitsebsk: "There is information from a reliable source that the mustachioed creature was pumped out at night by doctors. We came to the residence for this. We stopped by more than once. They're talking about champagne with ice," the Drivers-97 Telegram channel reports.
The telegram channel "Realnaya Belarus" also drew attention to one of the last photos of the usurper, taken during an interview with an Arab publication: the picture shows signs (lack of full-fledged bilateral facial expressions) characteristic of a stroke.