Even C-Grade Students Are Admitted into Law Enforcement Universities
62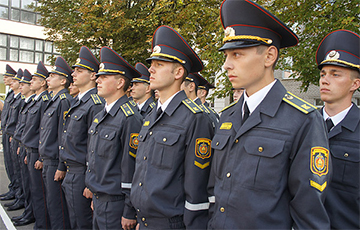 Low university enrollment.
Over the past year, the image of law enforcement agencies has changed significantly. How many young people this year enroll in investigators, forensic experts, and military personnel?
Nn.by analyzed the numbers of the admission campaign.
Academy of the Ministry of Internal Affairs
The most popular specializations this year were "operational-search activity" (135 applications for 110 seats, competition - 1.2) and "judicial-prosecutor's and investigative activity" (114 applications for 75 seats, competition - 1.5).
A future operative needs 195 points (the sum of three CTs and the average grade of the certificate) to study for free, an investigator - 210. Last year, the passing scores for these areas were 10 points higher.
The largest competition is for a forensic expert among girls: 4.4 people per seat. Only five places are open there. There are enough girls willing to work in the Department of the Execution of Punishments: almost two people apply for a job in the corresponding direction.
The shortage is expected in two specialties at the police department - "administrative and legal activities" and the same direction in the interests of the Ministry of Defense.
The number of applications submitted there is 37 less than the admission plan. Even a C-grade student who scored 135 points (certificate + three CTs) will be able to get a state-financed law degree.
Military Academy
This year, the shortfall in the Military Academy is more than 100 people (382 applications for 484 places). At the same time, a quarter of applicants enter without entrance examinations or out of competition.
The Air Defense and Missile Forces and Artillery departments were the least attractive for young applicants. The number of applicants was half of the plan.
The biggest competition was again for female specialties - this is explained by the fact that very few places are allocated for girls in the uniformed services. For the military psychologist, there are 3.5 people per place (only two applicants will be accepted).
Judging by the applications submitted, you can enter the Faculty of Military Intelligence or Internal Troops with 121 points (this is an average of 30 points for a certificate and CT). Compare: in 2020, 179 and 157 points were required to enroll there, respectively.
There are only a few graduates who have received documents with 300 points or more.
Last year, the competition for the Academy ranged from one to two people per place, depending on the specialty. An exception was a military psychologist for girls, where the competition was 4.3.