Cockroach's Days Are Numbered
25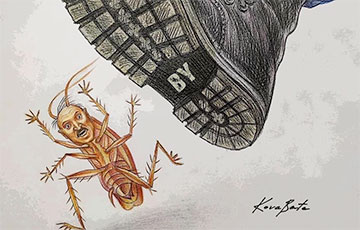 His escape will not be far off.
Every Belarusian now starts a new day by reading the news. It is in them that you look with your eyes, and also hope with hope that they will finally write: "The regime has fallen!" We dream of reading this, going out into the streets and finally inhaling this sweet scent of freedom.
There's a little left. True, it cannot be otherwise. The Cockroach's days are numbered, the countdown is already underway until the moment when he will run for good from the Belarusian land. And it seems that this Belarusian land itself is already rejecting the usurpatory essence of the dictator.
We can speed up his time. The main thing for us now is not to retreat. We must be friendly and solidary. Mutual understanding and help should dominate our minds. After all, a Belarusian is a Belarusian to a Belarusian! I believe that very soon the factories will stop, then the office workers will throw out their tired computers from the windows, and businessmen will announce their legal vacation for the entire companies.
When that moment comes, his escape will not be far off. All his bootlickers will try to jump into a boat in which there is not enough room for everyone. Overloaded, it will go to the bottom. No one will go unpunished for what they have done. They will bear responsibility for every ruined fate, for every hero of Belarus who has died, for everyone who has been in captivity for so long. I have absolutely no doubts that this moment will come, and we, Belarusians, will try to bring it closer as much as possible. We are at home, in our native land. Now let the Cockroach and his rats hide in their burrows.
Long live Belarus!
"Basta!" Telegram channel