Sviatlana Tsikhanouskaya: US Will Continue Pressure On Lukashenka's Regime
12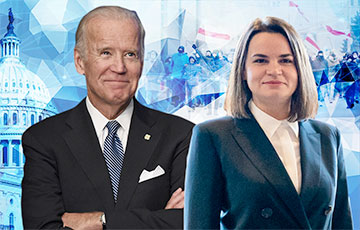 Sviatlana Tsikhanouskaya has reported on her meeting at the White House with President Biden.
Sviatlana Tsikhanouskaya told Radio Svaboda about the details of her meeting at the White House with Joe Biden, President of the United States of America.
- Sviatlana, what was the most important thing about the meeting?
- The most important thing I felt at that meeting was that the United States and personally President Biden would stand with the Belarusians - when we have a revolution, a revolt against violence and lawlessness, and after the new elections they will also stand shoulder to shoulder with the Belarusians.
- What did Biden say to you, what did he say to the Belarusians, what did he promise?
- We had quite a few meetings last week in Washington with Mr. Biden's advisors, and the details of our cooperation were discussed there. The meeting with Biden was, first of all, about getting to know a man who advocates democratic changes all over the world. I heard a promise that the USA will continue to press the regime and support the Belarusians as much as they can.
- This meeting had not been announced, but it was expected that it could take place. How was it organized? Obviously, your team did a lot of work...
- Actually, yes. This meeting was very important, but it was not a goal in itself. We came to the U.S. not for the photos, but for the result. Our requests were discussed in previous meetings, so it was President Biden's initiative to invite me to the White House.
- Where did the meeting take place at the White House? What was the format? Who else was present?
- Jack Sullivan and other White House officials were present. The meeting took place in the Roosevelt Room.
- Joe Biden has spoken out on the situation in Belarus over the course of his long political career. How well do you think he knows what's going on in Belarus?
- Joe Biden is a president who cares about the fate of Belarus and the Belarusians. I am convinced that he knows the situation, knows about the violence, about thousands of prisoners, and he also knows about the struggle of the Belarusians, which does not stop. He knows that everyone is united as never before, that democratic forces are acting to achieve a common goal. There is no competition between democratic leaders and parties, because we are united by one thing - the desire for new elections.
- How did you feel as a Belarusian, as a politician, as the wife of a political prisoner, as an elected democratic leader?
- It was a historic meeting. Leaving the White House, I tried to analyze how I felt at that moment. Different feelings. There was pride that we, the Belarusians, have amazed the world by our struggle and conviction that we will win anyway, that this regime will be over. I was glad to meet a great president for whom human rights and the rule of law are a core value. I was very sorry that not all Belarusians could share the moment with me. I'm talking about those who are behind bars, who are being tried in the so-called courts. And what I felt as a mother, that I had been without my babies for about two weeks and missed them very much, but they would forgive me. Mixed feelings that intertwined with each other.
- You were both wearing masks, even though both President Biden and you had been vaccinated against the coronavirus. Was it a demonstration, an example of safety rules?
- In the U.S., masks were not obligatory until yesterday, but yesterday they decided to tighten the rules, because of the new strain of the coronavirus.
- Naturally, you don't have time to look through social media. People are sharing pictures of you and Biden en masse, commenting on the visit. What would you say to those in Belarus who had to leave the country?
- I would like to say that the democratic world is with us, but the main task lies with the Belarusians. I'm grateful to everyone. I understand how difficult, how scary it is to fight in Belarus. Thank you for finding ways and opportunities to show that you exist, that you don't stop.
As long as Sasha Ivulin is in jail, the whole sports community will continue to fight. As long as Katsia Andreyava is behind bars, all journalists of Belarus will continue to fight. As long as Siarhei Tsikhanouski and Mikalai Statkevich are in jail, all activists will continue to follow this path. As long as Viktar Babaryka and Masha Kalesnikava are in jail, the whole business and IT companies will stand shoulder to shoulder and continue fighting. As long as Maksim Znak is behind bars, all legal services - openly or secretly - will still be on our side.