Joe Biden: USA Supports the People of Belarus in Their Quest for Democracy
30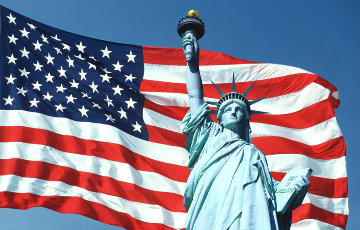 America is with us.
US President Joe Biden on Wednesday received the leader of the Belarusian opposition Sviatlana Tsikhanouskaya at the White House, Voice of America reports.
"It was an honor for me to meet Mrs. Tsikhanouskaya this morning at the White House. The United States supports the people of Belarus in their pursuit of democracy and respect for universal human rights," Biden tweeted following the meeting.
Президент #Байден встретился в Белом доме с лидером демократической Беларуси Светланой Тихановской: «Для меня было честью встретиться с @Tsihanouskaya в Белом доме сегодня утром. США поддерживают народ Беларуси в стремлении к демократии и соблюдению всеобщих прав человека». https://t.co/UVcQlFpeNQ

— Голос Америки (@GolosAmeriki) July 28, 2021
According to Tsikhanouskaya, the meeting, which lasted about fifteen minutes, was very warm.
"I saw a person who is not indifferent to what is happening in Belarus," she stressed.
"I conveyed our messages to the President," Tsikhanouskaya said, "that in Belarus the struggle is not geopolitical: it is our struggle against violence, against lawlessness."
During the interview, the correspondent recalled that, in social networks, Sviatlana Tsikhanouskaya is sometimes compared with the leader of the Venezuelan democratic movement Juan Guaido, noting, in particular, that Guaido has not yet been able to take power in Venezuela.
"I'm not trying to take power in Belarus," Tsikhanouskaya said in response. "I just want to return the right to us, Belarusians, to choose our president. I am not going to participate in the new elections. I'm not going to build a political career. All Belarusians in the country and abroad are fighting for the right to choose."
‼️ Согласно нашим источникам в Белом доме, сегодня лидер белорусской оппозиции Светлана Тихановская @Tsihanouskaya должна провести встречу с президентом США Джо Байденом. В эти секунды президент находится в Овальном кабинете. pic.twitter.com/jCAQTlairE

— Misha Komadovsky (@komadovsky) July 28, 2021
Tsikhanouskaya has been on a visit to the United States for ten days; During her stay in Washington, she was met by senior administration officials, including Secretary of State Anthony Blinken, Deputy Secretary of State Victoria Nuland, and National Security Adviser Jake Sullivan. In addition, American lawmakers met with Tsikhanouskaya, including the head of the Senate Foreign Relations Committee, Bob Menendez.
Let us remind you that a caucus "Friends of Belarus" was recently created in the Congress to support the Belarusian democratic movement.
Tsikhanouskaya called on the United States to increase pressure on the regime of Aliaksandr Lukashenka. Talking to reporters, she said that she had presented to the US leadership a list of Belarusian enterprises, which the opposition considers necessary to include in the sanctions list.