Doctors Were Not Allowed to Take Stsiapan Latypau to the Hospital
2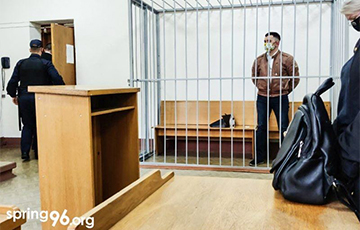 The trial of the political prisoner will continue in the afternoon.
The doctor was not allowed to take the political prisoner Stsiapan Latypau to the hospital, writes HRC Viasna. The trial will continue in the afternoon.
An ambulance arrived at the Savetski District Court, the guards checked the paramedics and, after a 10-minute wait, they were allowed to see Stsiapan. For a long time, even the lawyer did not know what was happening to her client. Then a policeman in civilian clothes said that Stsiapan had been taken to the hospital after the examination by doctors. But later the secretary came out and said that the trial would continue at 14:05.
It is known that Stsiapan has health problems in SIZO-1. He suffered from COVID-19. When his neck was stitched up after a cut 2 months ago in the hospital, they found residual pneumonia. Also, during his imprisonment, he had arrhythmia attacks.