Belarus Caught a Real Storm: Power Outages in the Cities, Wind Blows Down the Roofs
9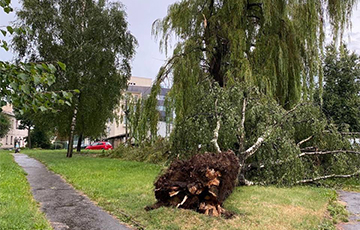 The Ministry of Emergency Situations warned about the continuation of the storm at night.
On August 17, the Ministry of Emergency Situations warned that the thunderstorm front had spread over most of Belarus. There are heavy rains and wind in many cities. And videos and photos of the storm appeared on the network, writes telegraf.by.
According to the Ministry of Emergency Situations, bad weather is accompanied by heavy downpours, wind gusts up to 15-20 meters/s in some areas; there is hail in some regions.
This weather will continue on Wednesday night in the eastern half of the Republic of Belarus. Therefore, the country has declared an orange level of danger and a storm warning.
Residents of Zaslauje report that many houses were left without electricity. The same messages are coming from some districts of Minsk.
In Dziarzhynsk, the roof of one of the stores was simply blown off.