Pre-strike State in Belarus
62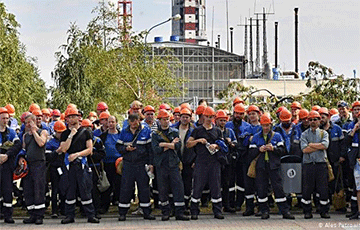 Workers have put forward demands to the authorities.
The leader of the Belarusian Association of Workers, Sergei Dylevski, addressed the Belarusians:
- Workers are the backbone of the Belarusian state. We make up the majority of the population and fill the budget with our taxes. It is up to us to decide who works for us and protects us. Now the dogs on the leash of the ex-president are entangled in their chains and do not understand who really support them. It is up to us to remind them where they belong.
If we don't work and ignore taxes, the system will stop. It will lose its source of funding. When the machines at the MTZ stop, when the miners at Belaruskali leave the mines when the transport workers do not leave the fleets, there will be a logical end to everything.
We are one state. Belarus is not just borders. Belarus is not Lukashenka and random officials. They are ordinary mortals.
We have been standing up for our rights for a year. We have delivered ultimatums, marched, staged pickets and hunger strikes. But even after that, they ignored us. It is time to take the next step. This is no longer just a fight for votes. We are fighting for our rights, the proud name of "worker" and the release of our friends and relatives from prison.
We, the Belarusian Association of Workers, declare the beginning of the pre-strike state and put forward our demands to the authorities. If they are not met as soon as possible, we will stay home and not go out to work.
Our demands are:
1. The cessation of repression, the release of all political prisoners and those illegally arrested.
2. Adjusting salaries, scholarships and pensions to the real economic situation in the country.
3. The initiation of direct negotiations between the government and the democratic forces, with the compulsory participation of workers' leaders, for the organisation of new presidential and parliamentary elections to resolve the political and economic crisis.
4. Reinstatement of dismissed workers, expelled students and guarantees for the safe return of all Belarusian citizens who left the country because of repression.
5. Implementation of the right to operate independent trade unions, including the establishment of new ones.
6. Exercise of the constitutional right of citizens to free movement.
7. Exercise of citizens' right to protection from COVID-19, including through vaccination with internationally recognised vaccines. Protection of the rights of healthcare professionals.
8. Exercise of the constitutional right to freedom of expression. Immediate release of all journalists and bloggers.
9. Regularisation of relations with neighbouring countries. An end to "hybrid" migration.
10. Creation of favourable conditions for the development of small and medium businesses.
We urge all citizens of Belarus to support our initiative. Declare a state of pre-strike at your workplace.
Belarus is us.