Lithuanian Prime Minister Compared the Incident with the "Deceased" Iraqi with the "Crucified" Boy in Ukraine
7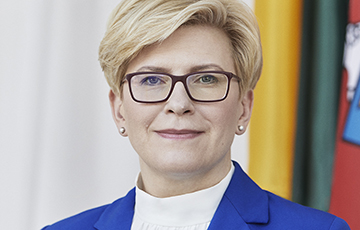 Responsibility for information provocations lies with the Belarusian authorities.
The Prime Minister of Lithuania Ingrida Šimonytė said that the authorities of Belarus are responsible for what is happening in this country.
This is how she commented on the reports of the Minsk regime about the "death" of an Iraqi in the border area, delfi.lt reports.
The head of the Lithuanian government also stated that she had no information about "any incident" on the Lithuanian-Belarusian border. "I do not know anything about any incident that took place on the border of Lithuania or the border of Lithuania and Belarus. The Belarusian authorities are responsible for what is happening in Belarus," the prime minister said after the government meeting.
She added that, earlier, the Minsk regime spread various false stories in order to compromise the officials of Lithuania.
"We know perfectly well the stories that have already been used more than once in propaganda wars, we know the story of the crucified boy in Ukraine and all the other false news that were used in such situations. I think this is what we would expect because we have heard such lies before - about pregnant women being beaten by someone with telescopic batons and all the other similar accusations against our border guards," the prime minister said.
"I want to emphasize that Lithuanian officials, in fulfilling their duties, observe their own and state obligations, and the Belarusian authorities are responsible for who and where was found on the territory of Belarus," she added.
The Border Committee of Belarus reported on Wednesday that an Iraqi citizen allegedly died at the border near the settlement of Beniakoni.