MEPs: Lukashenka and His Clique Must Held Personally Accountable
16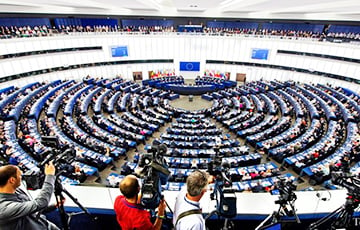 Brussels called for new economic sanctions against the Belarusian regime.
The head of the European Parliament delegation for relations with Belarus Robert Biedron and the European Parliament rapporteur for Belarus Petras Austrevičius released a statement on the death of the head of the Belarusian House in Ukraine Vitaly Shishov and the attempt to kidnap the athlete Krystsina Tsimanouskaya. The parliamentarians called on the EU to immediately impose additional sanctions against the Lukashenka regime.
The Charter97.org website provides the full text of the statement by Robert Biedron and Petras Austrevičius.
- We are deeply concerned about the suspicious death of Vitaly Shishov in Kyiv, which looks like a political assassination. Vitaly Shishov fled Belarus after participating in last year's protests against the Lukashenka regime. Since then, he headed the public organization Belarusian House in Ukraine, helping fellow Belarusians hiding from repression in search of asylum in Ukraine. Vitaly Shishov felt constant surveillance and spoke about cases of surveillance in recent times. As the Ukrainian authorities have launched an investigation into the murder, we hope that this case will be clarified very soon.
This tragic event was preceded by a failed attempt by the Belarusian Olympic team to forcibly remove the runner Krystsina Tsimanouskaya after she criticized the Belarusian Olympic Committee, headed by Viktar Lukashenka. Fortunately, Tsimanouskaya was issued a humanitarian visa to travel to Poland.
The attempted kidnapping of Tsimanouskaya in Tokyo and the suspicious death of Shishov in Kyiv indicate that Belarusian dissidents are not safe even outside their own country.
In addition, we are outraged by the announced "liquidation" of the Belarusian Association of Journalists (BAJ), a respected institution dedicated to the protection of all journalists working under constant harassment, which was awarded the Sakharov Prize for Freedom of Thought in 2004. The very fact that the Ministry of Justice ordered the closure of the BAJ without providing clear legal grounds illustrates the state of absolute lawlessness in which Belarus has plunged.
Finally, we insist on a public trial of Maryja Kalesnikava and Maksim Znak, two prominent figures in the democratic movement in Belarus. In a ridiculous attempt to avoid scrutiny from the international community and human rights defenders, the Belarusian authorities have announced that the trial, which began on 4 August, will be closed. They face up to 12 years in prison on absurd charges such as "extremism" and "conspiracy."
As the political and human rights situation in Belarus continues to deteriorate, we call on the EU to introduce a new set of restrictive measures against the Lukashenka regime, including additional economic sanctions. Lukashenka and his clique must be held personally accountable and brought to justice for their outrageous actions.